SPRING HILL — For nearly three decades residents in most parts of Spring Hill have been required to pay for trash pickup service, the service fee added to their monthly water bills. Failure to pay meant some residents had their water shut off.
As of this year, fail to pay your garbage bill and you could lose your home. The reason is that waste pickup service for many is now part of their annual property tax bill and failing to pay property taxes always has meant risking a lien from the county.
"If your tax bill isn't paid, you could lose your property," said Sally Daniel, Hernando County tax collector. "It's (the waste fees) the same as any other taxes (appearing on the property tax bill)."
Daniel said her office has been fielding scores of phone calls and inquiries about the new way of billing applied to the mandatory pickup area, which includes Spring Hill from County Line Road north to Cortez Boulevard, and bounded east and west by Mariner Boulevard and Commercial Way. Many callers have not been happy, but Daniel said it's not her rule to question, only to implement.
"We just collect it," she said. Pay all your taxes and there's nothing to worry about, she added.
The terms of Hernando County's contract with Republic Services, the only company allowed to service residential customers, kicked in this year. In addition to the new annual billing, there's a rate increase and a new system of automated trash pickup. Trucks will now use a robotic arm to lift waste containers and automatically dump them into the truck. The new system and rates were part of a new seven-year contract between Hernando and Republic signed in 2017.
Residents in the mandatory area will see their monthly waste service costs this year rise from $8.18 to $14.40, or $172.80 per year added to their property tax bills. A small portion of that increase is to cover county administrative costs for handling the billing via the Tax Collector's Office. Residents in the rest of Hernando are not required to have waste pickup service, but if they choose it, their rates will climb from an average of about $9.80 to $12.44. The fees and ordinance does not apply to the city of Brooksville. Residents also can haul their own trash to one of the convenience waste stations, where disposal is free.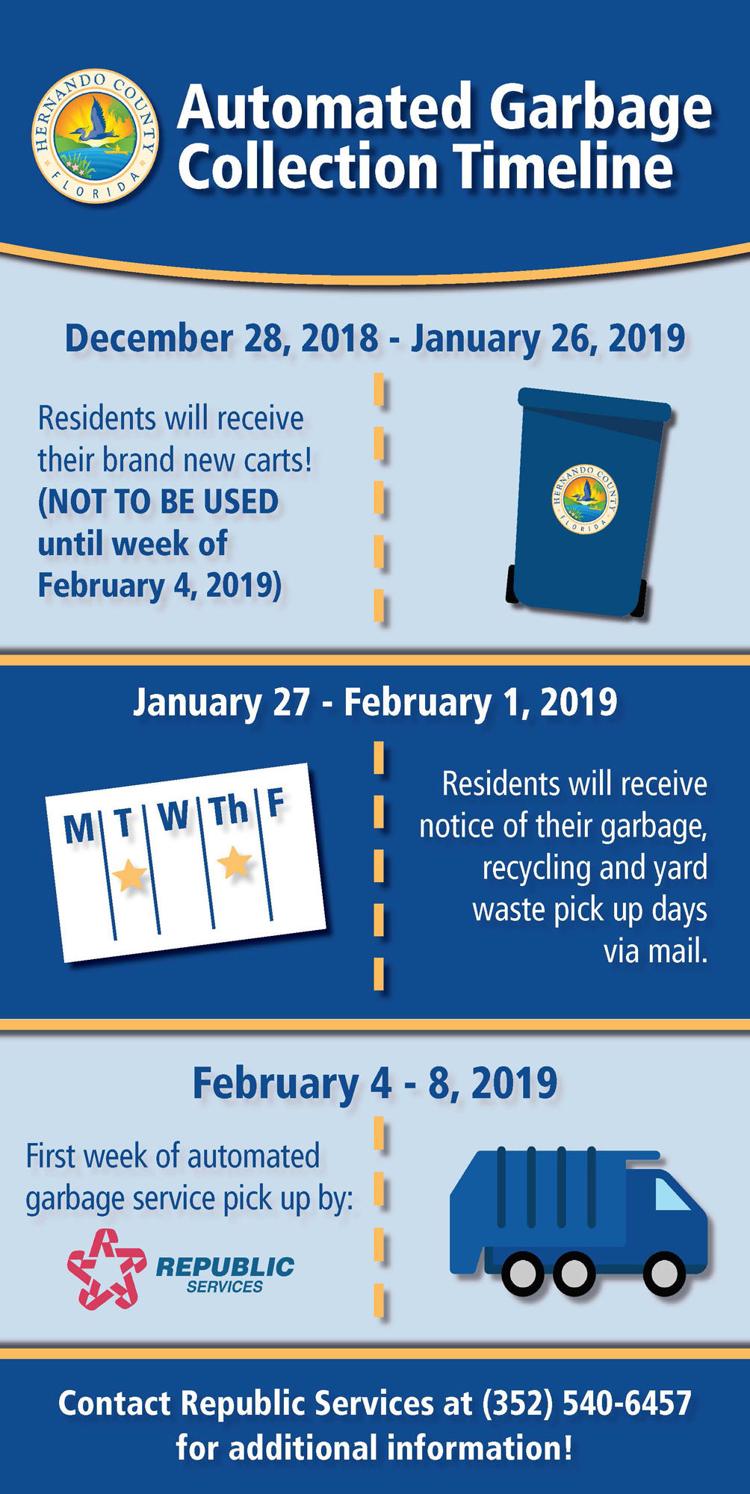 Even at the higher rates, Hernando residents will receive good value by using Republic, said Virginia Singer, Hernando County Public Information Officer.
"It's still below the average compared to other counties," she said.
Hernando pickups are twice a week, with once-per-week pickups of yard waste and recyclables. Other counties and cities offering 2-1-1 service include Manatee, $14.33; Sarasota, $15.32; the city of Tarpon Springs, $12.90; Lake, $18.33; and the city of Temple Terrace, $26.21.
Some residents already may have received new trash carts from Republic, which are designed to work with the new automated arm system on trucks. Customers must begin using the carts the week of Feb. 4. The new system is designed to be more efficient and cut down on the manpower needed to handle trash routes.
"It's going to be a huge thing," for residents and the county, said Singer. She said residents will be receiving instructions in the mail from Republic explaining the new system, where and how to place the trash carts and other details about the new system.
Daniel said property tax bills for vacant lots will not be subject to the trash fees. Since tax bills go to property owners, whether to pass the fee to a renter is something landlords "would have to work that out with the renter."