SPRING HILL — Domestic violence doesn't take holidays or breaks. Nor does Dawn Center, which operates 24 hours a day, seven days a week, providing services for domestic violence survivors.
But in October during National Domestic Violence Awareness Month, executive director Shannon Sokolowski and her staff are busier than usual. Several events are planned each year to deliver the message that domestic violence has no place in a civilized community.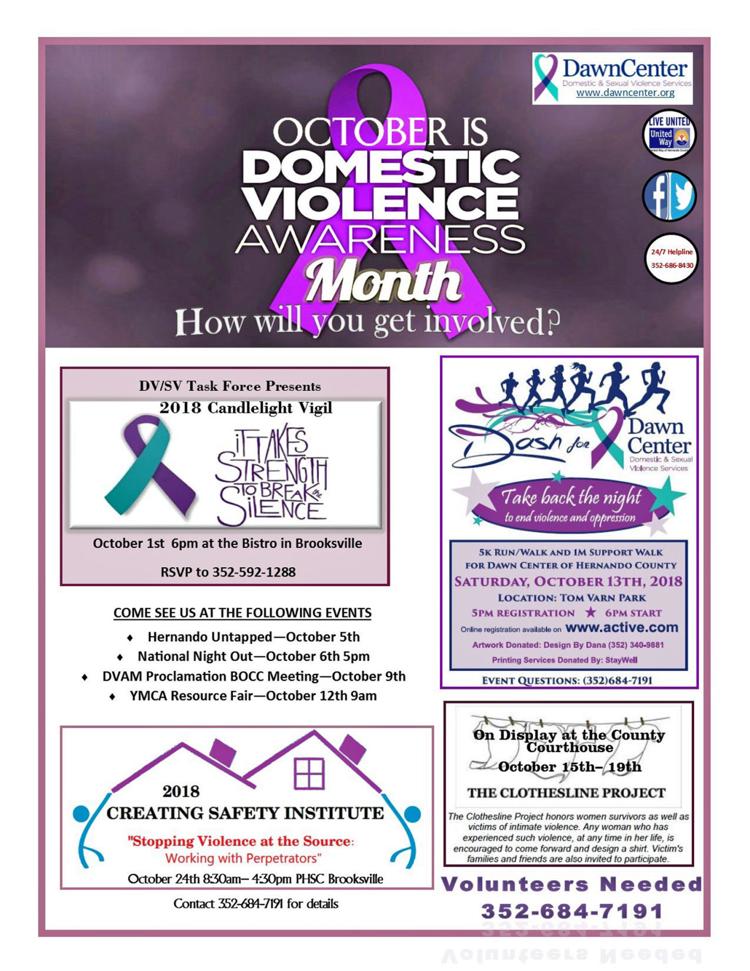 According to the National Coalition Against Domestic Violence, the following are indisputable facts:
• Every 9 seconds in the US a woman is assaulted or beaten.
• An average of 20 victims are physically abused by an intimate partner each minute.
• One in five women and one in seven men have been severely physically abused by an intimate partner.
• One in seven women and one in 18 men has been stalked.
• The presence of a gun in a domestic violence situation increases the risk of homicide by 500 percent.
• Domestic violence accounts for 15 percent of violent crimes.
• Domestic violence is more common among women ages 18-24.
• 19 percent of domestic violence incidents involve a weapon.
• Domestic victimization is correlated with a higher rate of depression and suicidal behavior.
• Only 34 percent of victims who are injured by an intimate partner receive medical care.
Awareness, then, is a valuable key to ending the violence.
Oct. 1 kicked off the series of activities, sponsored and organized by Dawn Center, with the traditional Candlelight Vigil at the Bistro on Main Street in Brooksville, 5-10 p.m. The theme is "It Takes Strength to Break Silence."
"We are having a survivors' speak-out and then will do the candlelight processional on the historic courthouse steps," said Sokolowski.
On Oct. 13, Dash for Dawn Center, a 5K Run-Walk through the Brooksville Quarry, will commemorate its sixth year. The theme, "Take Back the Night," attracts survivors and supporters to Tom Varn Park, where the race begins. Runners head off into the challenging course at 6 p.m. and finish after dark.
The theme has a deep meaning, said Sokolowski.
It comes from the reality that people traveling alone at night, and particularly women, are looking over their shoulder, keeping safety at the forefront. "While it's a good practice, we hope to get to a point in our society where you don't feel so threatened that it doesn't need to be at the forefront, so people can feel safe when they're walking or running alone," Sokolowski expanded.
Registration begins at 5 p.m. with the run kicking off at 6 p.m. A traditional highlight, the Clothesline Project, will return this year with a display of T-shirt's crafted by survivors. "Survivors get a chance to tell their story through art," Sokolowski explained. "We have pretty heartbreaking messages from adults and children alike." The shirts depict how the experience of domestic violence impacted their lives.
The shirts are a healing project that allows survivors to express their individual stories.
Sokolowski mentioned that several survivors repeat the 5K course each year, challenging themselves a little more each time. "Overcoming it is something that really means a lot to their healing process."
The event includes community partners who recognize the importance of exposure to the problem in search of effective solutions. Terlep Chiropractic, Capital City Bank and Capital City Trust Co., the Hernando Republican Party, and Tidal Brewing are sponsors. Tidal Brewing is also hosting an after party.
Sokolowski expects more than 100 runners. "It's a nice time where we can come together and educate the community," she said. "But we also really want to celebrate survivorship too."
Registration can be done online by visiting www.active.com.
The Clothesline Project will also be on display at the Hernando County Courthouse from October 15 through the 19 during regular operating hours.
"We know survivors are going to come through and know they're not alone."
The National Coalition Against Domestic Violence defines domestic violence as the "willful intimidation, physical assault, battery, sexual assault and/or other abusive behavior as part of a systematic pattern of power and control, perpetrated by one intimate partner against another." It might include physical or sexual violence, emotional or psychological abuse or threats.
The statistics are staggering. And education, awareness and advocacy, all working together in the community, will help end the violence and oppression.
If you believe you are the victim of domestic violence or sexual assault, or you know someone who needs help, contact the 24-hour crisis hotline at 352-686-8430 or 352-686-8430 TDD.