BROOKSVILLE — Hernando County Fire and Emergency Services has responded to an increase in emergencies this year from residential fires with various causes.
"We've trended 10% higher for some reason," said Kenneth Wannen, division chief of training and safety and public information officer for HCFES. "Last year, we had 105 residential fires, this year we're up to 118."
While a majority of these cases come from unintentional fires, the HCFES would like to remind residents to use caution when handling fire — whether that's in the kitchen or in a controlled outdoor setting. At least 70 fires in the past year were deemed "unintentional" while 14 fires were found "intentional," 20 fires were the result of failure because of mechanical equipment, and seven were acts of nature, Wannen reported.
In November alone, at least five residential fires occurred with one resulting in a civilian's death, and four others blazed within a week. Wannen said the average response time for fire crews to arrive on the scene of a fire can be from four to seven minutes, depending on the area.
"We never advocate for people to go back inside to rescue pets on their own," Wannen said. "When it comes to rescuing animals, it's best left in the hands of us where we can wear protective equipment and go in and search for the pet ourselves. Smoke itself in the house, it only takes a couple of breaths to actually kill someone from the carbon monoxide and the poisons that are in the plastic or burning insulation."
While the average accidental fires have different causes — cooking, not cleaning out dryer ducts, burning too close to the house, storing flammable materials the wrong way — it's critical for homeowners to be alert and have an evacuation plan in place.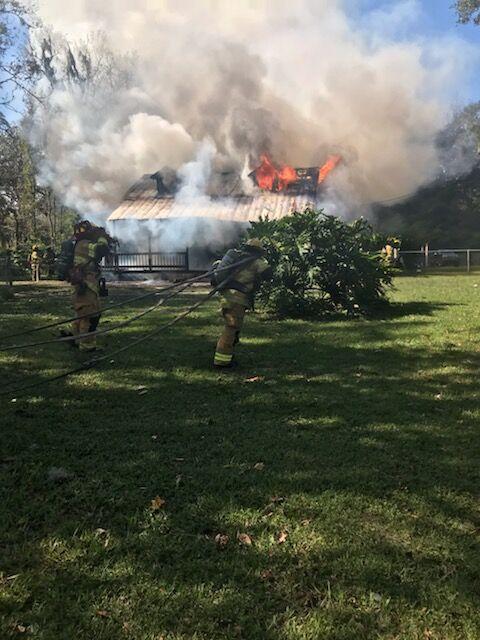 "Smoke detectors do save lives and it's important to make sure you change the batteries, even if they're hardwired in," Wannen said. "We also like to make sure you have an ABC fire extinguisher somewhere on the outside of the kitchen; that will go a long way from preventing some of the small fires from getting into larger areas."
Other safety tips include fire safety inspection around the house to make sure nothing is improperly stored; routinely clean and maintain the house, especially the oven, stove, dryer and air conditioning systems; use common sense around the house, follow Florida burn laws, and have a plan for a meeting point outside of the house in an event of a fire.
For more information, search for "Hernando County Fire and Emergency Services" on Facebook.