Hernando deputies offer tips for surviving active-shooter incidents
Know where the secondary exits are
BROOKSVILLE — You're in a staff meeting in your building's conference room when a colleague spots a gunman, weapon raised, lurking in the hallway. You hear the unmistakable popping of gunfire. Would you know what to do to stay alive?
The Hernando County Sheriff's Office wants people to be prepared in an active shooter situation. Though the likelihood of being involved in a mass shooting or deadly murder spree is relatively low, preparation and planning are keys to surviving any deadly attack.
On Jan. 17, the Sheriff's Office held an Active Shooter Preparedness class in its Emergency Operations Center for about 20 attendees. Deputies Matt Spooner and Jason Deso discussed several cases of attacks against innocent victims and provided open discussions of how a similar situation might be handled effectively to avoid injury or death.
They provided videos and recordings of specific incidents in recent history, discussed motivation, and analyzed details that may have contributed to a victim's odds of survival. They encouraged open discussion between attendees to assist in problem-solving should an incident occur.
There are three stages to surviving an active shooter situation, Spooner explained. Avoid, Deny, Defend, best remembered by the acronym ADD.
Avoiding a potentially catastrophic circumstance begins with adapting situational awareness. Know your secondary exits, said Spooner. Many deaths occur when people storm the entryways through which they entered.
Most public buildings have multiple secondary exits. Can you exit through a kitchen? Is there another access point not visible? These questions should be confronted before a disaster occurs.
"And if I can't get out of a secondary exit, I'm going through a window," Spooner added. "Am I going to get cut up? Probably. Do I have a better chance of survival? Absolutely."
Of course, if a situation is escalating dangerously, it is best to try and get out if possible. Spooner discouraged calling 911 until safely out of harm's way.
If avoidance isn't possible, the next step would be to deny access. Lock the doors, turn the lights out and stay out of sight. If the doors cannot be locked, find something to barricade or tie them shut.
And finally, defend with everything you've got. "You have a right to protect yourself," said Deso. "Fight with everything you have."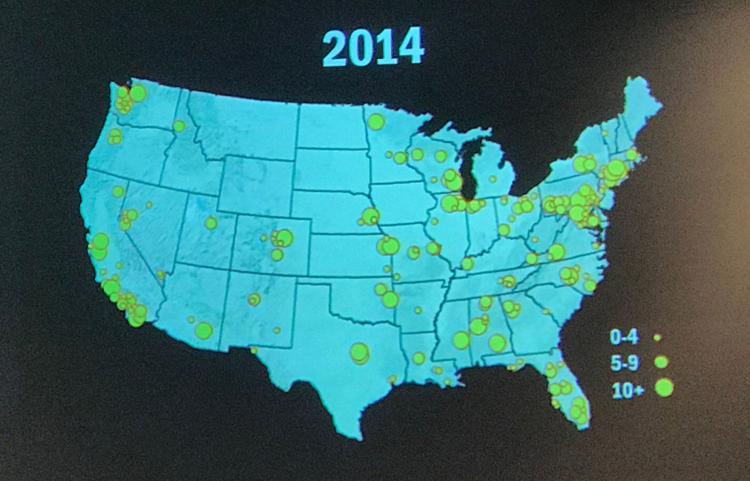 They also discussed the correct protocol to follow when law enforcement arrives on scene.
Follow the instructions given, Deso said. Hands should be visible and empty. And don't assume LEO will be dressed in traditional uniforms. "It is not what the deputy is wearing but their actions."
The class has been offered 12 times, said Denise Moloney, public information officer for HCSO. "We have received excellent reviews from everyone who has attended."
HCSO schedules several throughout the year, with day and evening classes to accommodate most schedules.
"Events in recent years have called attention to the need to be prepared for a wide range of emergencies," HCSO posted on the Facebook events page for the session. "Communities across the country have reassessed their level of preparedness and established broader training and education programs. At the Hernando County Sheriff's Office, deputies have been training for years to respond to an active shooter incident, training that is routinely reinforced with exercises.
"Sheriff Al Nienhuis and the men and women of the Hernando County Sheriff's Office want to emphasize that your awareness and preparedness is as important as our training in keeping your community safe. Should an incident like this occur, there could be crucial minutes of time before law enforcement officers arrive on the scene."
Deso and Spooner shared scenarios, based on real incidents. And the deputies encouraged the class to discuss effective solutions to various situations.
Attendees were also asked to observe their surroundings, report suspicious activity and remain vigilant. Particularly in school-related disasters, the HCSO follows up on leads throughout the year.
"We can't always know when we prevent one," Spooner said. "But we know when we miss one."
The important message to take away from the class is made very clear. "You are not helpless," Spooner said. "What you do matters."
For information about upcoming Active Shooter Preparedness sessions, visit HCSO's Facebook events page. Classes can also be scheduled at private locations for groups upon request.