BROOKSVILLE — Baskets — woven receptacles on hallway credenzas that hold car keys, ink pens and coupons, apples and oranges in the kitchen and even our dirty laundry — they're everywhere.
It's really remarkable considering injection-molding, thermoforming and all manner of modern technology seems like it ought to have replaced them decades ago. But there's something about the woven vessels that keeps them a part of nearly everyone's life.
Want proof? "Who doesn't have one?" asks Arlene McGowan, president of the Nature Coast Basket Maker's Guild.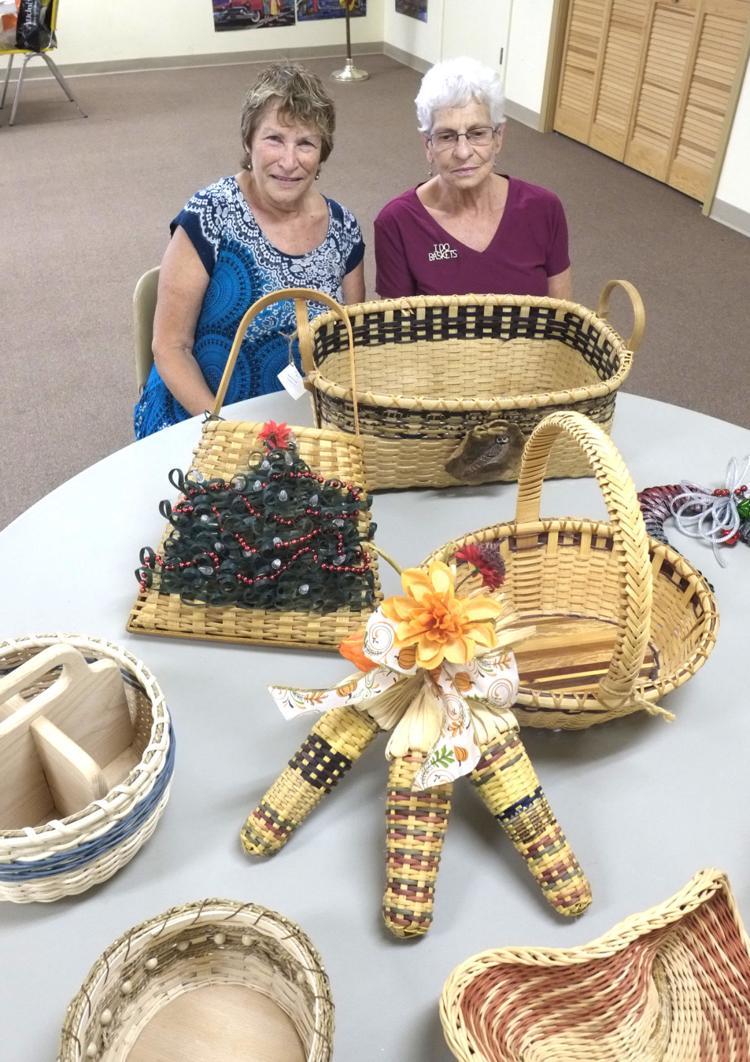 The technology is ancient, and little more than the reed or other material and one's fingers are needed to make one, she said. But as simple as the process may seem, make no mistake, baskets can be serious business. The famous sweetgrass baskets of South Carolina can command hundreds of dollars per piece, she said. Some are pure art pieces purchased only for display. Some baskets become part of art exhibits in museums.
The local group, which has a couple of dozen regular members, makes all manner of them, from decorative pieces meant for a mantle or coffee table to utilitarian pieces to hold silverware and serve as catch-alls.
There's a bit of a knack to it, said McGowan, but anyone can learn. The material can be purchased easily at craft stores or mail order, and basket makers can even collect their own materials from nature. McGowan said she's made baskets from pine needles.
The Hernando group meets the second Thursday of the month in Brooksville and holds "open-weaves" on the other Thursdays, where members can learn, weave and exchange ideas. Anyone interested in joining can email bsktlady1@live.com or joejane@tampabay.rr.com for details. Annual dues are $25.
Members don't have to know anything about weaving to join, said Jane Sheldon, vice president of the guild, who often leads the group with instructional session. At the most recent meeting she led everyone in how to make decorative Indian corn displays out of colored reed.
"We try to be seasonal with our projects," she said, adding that she jumped into the hobby in 1997 knowing very little. Today she makes scores of baskets, selling them, giving them to family members and donating them for church bazaars.
"You have to do something with them or you'll have them climbing up your walls," said Sheldon.
The problem for dedicated weavers, she said, is every time you see a unique basket, the urge to make one is hard to resist.
"You see something new that someone has done, and then you have to do one," said Sheldon. "You say, 'I've got to do that.' "
McGowan knows the feeling. She's been hooked on weaving for about 20 years.
"Shaping them is the hardest thing for most people to learn," she said.
Once able to create and maintain the forms, its remarkable how creative one can get, McGowan said.
This time of year is what basket weavers live for, the pair agreed. There's something about baskets and fall that just go together. It's also the time of year weavers crank out baskets as gifts, or perhaps more accurately, vessels used to make gift baskets.
McGowan and Sheldon agree that part of the appeal of baskets is that they are made by hand from natural materials and the work that goes into them is easy to see just by examining the intricate pattern of the weave.
"I have them all over the house," said Sheldon. "They're used all over world and they're still around because they are so beautiful and useful."