OLDSMAR – State Rep. Jamie Grant gave his annual legislative update at the June 4 Oldsmar City Council meeting.
The Tampa Republican, who represents Florida House District 64, touched on several key topics of interest from the recently completed legislative session, including health care and education, and he expressed praise for Oldsmar leaders for their cooperative and collaborative approach to working on state-funded projects.
"It is truly an honor to represent Oldsmar, and I don't say that because I'm standing here," Grant, whose district includes northwest Hillsborough and northeast Pinellas counties, said. "I say that because when we oftentimes deal with regulations of cities and policies that sometimes get a little 'spicy,' I like to remind people there's … no city like Oldsmar that continually shows what a city should be and demonstrate how a city should be led."
Grant, who serves as the vice chairman of the House Higher Education Appropriations Subcommittee and is a member of the Health Care Appropriations Subcommittee, said the two large ticket issues that got a "lot of focus" during the 2019 legislative session were health care and education.
"One in five dollars in America is spent on health care," he said. "Premiums continue to go up, deductibles continue to go up, access to care continues to go down. We have a major and systemic problem."
Grant said the two most significant drivers of health care costs are acute care costs, or hospital visits, and prescription drug prices. Leaders on both sides of the aisle in Tallahassee have worked together to combat these problems, he said.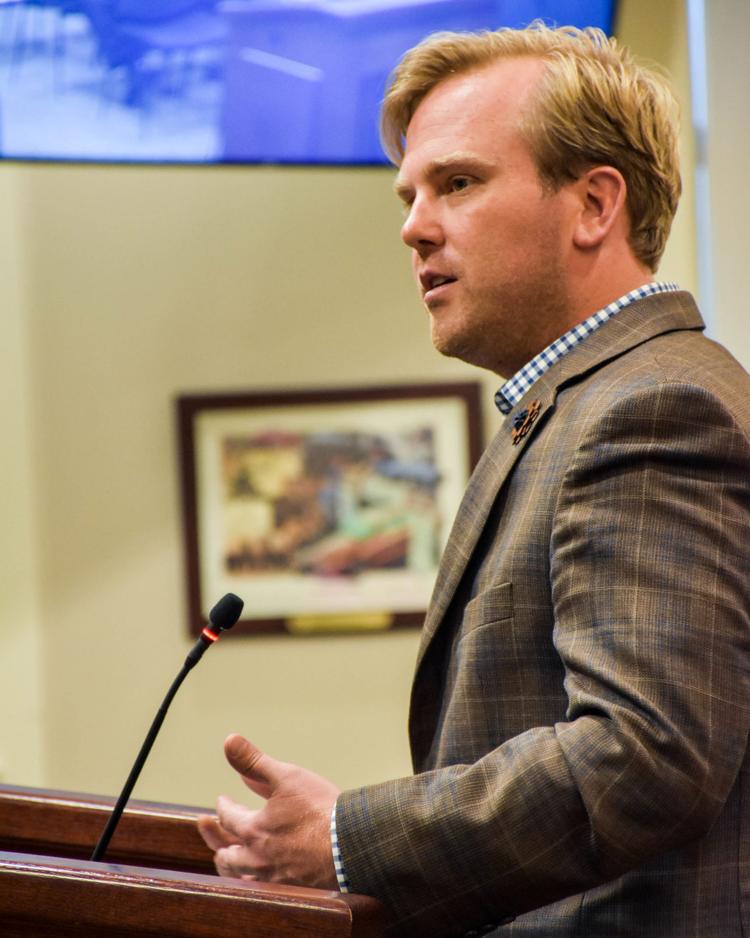 "We looked at those two major cost drivers and said if we can make drugs more affordable and if we can bring down the price of a hospital procedure or stay, we're doing something significant," he said. Despite the progress to date, however, "It will be an ongoing effort until we get health care back to an affordable place," he noted.
Regarding education, Grant said, he is working with other lawmakers to create more school choice.
"We have continually said that no child, regardless of their color, their zip code, the size of momma's purse or daddy's wallet, should be stuck in a failing school with the only determining factor of can they get to a different school being the amount of money they have," he said.
He and likeminded legislators continue to work to expand school choice, Grant said because the most important parties in the education world are the family — the parents and the student — and the teachers. "And having empowered students and families, and having empowered teachers, you saw some significant reforms there," he said.
On the local front, Grant said the Douglas Road project, which will connect Tampa Road at Burbank Road to the industrial district on Douglas Road, is finally moving forward, thanks to support in Tallahassee and in Oldsmar.
"We expect to have that across the finish line," Grant said of the Douglas Road project, while praising the council. "Putting us in the position where we can advocate for projects that make a direct and significant impact on our community is the only reason that the Douglas Road project is sitting in the budget."
After Grant concluded his update, Mayor Eric Seidel was quick to return the praise.
"Let me add, because he was being pretty modest," Seidel said. "Jamie filed the appropriation bill where we're ending up with a million dollars to help us on that project."
Seidel, who also thanked state Sen. Ed Hooper, R-Palm Harbor.
"Both of them made their top priority as us," Seidel said of Grant and Hooper. "We send a whole lot of money up there, and we don't ask for a whole lot back, and when we ask for something that's important to our commerce and the industrial section back there, it's nice to know we have someone who really goes to bat for us. I cannot tell you how much we appreciate that. Keep up the good work."
Before the meeting, Grant held an informal roundtable discussion with City Council members and other city officials and anyone who wanted to join in.
After the impromptu session, which featured more good-natured chatting than hardcore political talk, Grant spoke about the importance of making these appearances in the communities he represents.
"The job of a representative requires listening first," he said. "I can't represent anyone if I'm not listening. So, hearing the voices of the people who elected me to represent them in Tallahassee is a critical part of my job. If I'm going to do a good job in the legislature, I'd better listen."
In an email the next day, Seidel again praised Grant for his hard work and making time to visit the city.
"In this day and age, we appreciate Representative Grant making the time to come in-person to update the council and the community on the recent session in the State Capital," Seidel said. "It's important to get the information directly from our state elected officials. Rep. Grant's public roundtable before the Council meeting was a perfect way to let the public ask questions as well."
When asked how he felt about Grant singling out Oldsmar for its collaborative nature, the mayor wrote, "We are appreciative of Representative Grant's recognition of how the City of Oldsmar is an example of a city doing things right and by the book. The acknowledgement from a leader who see's other examples of cities in our state highlights just how our City staff performs at the highest standards."