TARPON SPRINGS – According to Jim Archer, a former Major League pitcher and onetime City Commissioner, he's led a good life.
The 87-year-old Virginia native played professionally in the 1950s and '60s, pitching from Canada to Cuba in the minors before to a two-year stint with the Kansas City Athletics was cut short due to an arm injury in 1962. After his playing days, Archer moved to Tarpon Springs in 1969, where he ran a pair of car dealerships for a combined 50 years, married his wife, Becky, and raised two kids, including a son who serves on the local fire department.
"I've had a good life, and I'm appreciative for everything I have," Archer said recently from the living room of his home in the Pointe Alexis development, which is adorned with photos, bats and balls and other baseball memorabilia.
Content despite recent bouts with kidney cancer and pneumonia, Archer wasn't concerned when asked how he felt about being one of more than 600 retired former major leaguers who do not receive a full pension, and whose pension payments do not carry over to surviving family members.
"I'm not upset with it because I wasn't aware," he said. "I know I get a check at the beginning of the month, but I didn't realize it didn't carry over to Becky or my sons when I'm gone."
Asked if he'd like to receive a full pension that carried over, Archer said, "Certainly I'd like to get more and my wife to supplement the income when I pass away, because all that falls on her… If I had to vote on it, I'd say yes."
By most measures the business of Major League Baseball is thriving. According to a recent Forbes report, the league raked in a record $10.8 billion dollars in revenue last year from television and streaming rights, sponsorship and licensing deals and other lucrative revenue streams.
And while current major leaguers are adequately compensated during and after their careers, thanks to a minimum salary reportedly of $550,000 per year and pensions and other benefits that continue long after their playing days are done, for the group of more than 600 living former MLB vets, the lucrative, and in many cases, necessary, post-career payments are minimal and don't transfer to next of kin.
Doug Gladstone, a freelance writer and author from New York, has made it his mission to right this perceived wrong.
"There are 632 men who played Major League Baseball who are being denied pensions by both the league and the union representing the current players, the Major League Baseball Players Association, because of an error the union committed 39 years ago," Gladstone, author of "A Bitter Cup of Coffee: How MLB and the Players' Association Threw 874 Retirees a Curve," said during several phone calls and email exchanges.
According to Gladstone, in order to avoid a walkout by the players in 1980, Major League Baseball made the following offer to the players union: a post-1980 player would need one day of service to be eligible to buy into the league's premium health insurance plan while a post-1980 player would need 43 game days of service for a benefit allowance.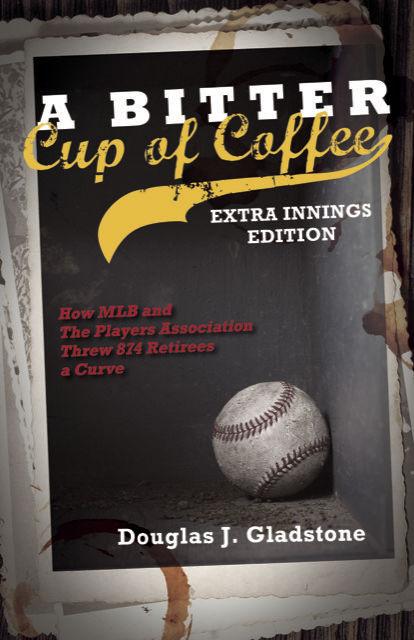 "The problem was, the union failed to insist on retroactivity for all those players who had more than 43 game days but less than four years of service," Gladstone said, noting that in 2011, the late former MLBPA head Michael Weiner "partially remedied the situation" by awarding all the pre-1980 players who were still alive at the time payments of $625 per quarter, up to 16 quarters, for every 43 game days of service the man had, although with no carry over of the payments to living heirs.
According to Gladstone, who said all his requests for comment on the pension issue have been rebuffed by MLB and MLBPA officials, it's not enough.
"The league recently announced that its revenue was up 325 percent from 1992, and that it has made $500 million since 2015," he said. "What's more, the average value of the each of the 30 clubs is up 19 percent from 2016, to $1.54 billion. And the 30 club owners recently wrote a $10 million check to the national Baseball Hall of Fame in Cooperstown."
To that last point, Gladstone said, "The owners chose relics rather than retirees. But the onus of re-sponsibility to help these men falls on the union."
Ironically, of the 632 living former players who fall into Gladstone's group, two reside in Tarpon Springs: Archer and former pitcher, Hank Webb.
Webb, a 69-year-old former Clearwater For Youth executive director who pitched parts of six seasons in the 1970s for the Mets and Dodgers, said he knew about the pension situation.
"They never backdated the pensions for anyone who played from 1947 to 1979 without realizing it," he said. "So, about 850 guys didn't get pensions because they didn't get in the four years, and I was one of them."
Webb's situation is unique in that his son, Ryan Webb, a former standout pitcher at Clearwater Central Catholic, is also a major leaguer, having last pitched for the hometown Rays in 2016.
While he holds no grudges against the league or today's players for getting what's due to them, Webb believes the disparity can be chalked up to one main factor.
"MLB says they addressed this, and the active players don't think much about it," he said, noting he doesn't receive a pension for CFY, either, despite working there for more than 30 years. "I think they have enough problems on their plate than a bunch of old guys. I think it's a forgotten thing."
Gladstone, however, is determined to make sure the 600-plus former players aren't forgotten.
"Labor unions are supposed to make the lives of working families paramount, but the MLBPA's leader-ship isn't doing that," he said via email. "So many of these men helped grow the game by standing on picket lines so that free agency could occur, and I am confident the principals – MLB Commissioner Rob Manfred and (MLBPA President) Mr. (Tony) Clark – will sit up and take notice" once this story gets out.