BROOKSVILE — If you missed Christmas on Main Street, on Dec. 6, you can still take advantage of nearly a month of holiday-inspired events. Brooksville Main Street Program, the entity responsible for many events in Brooksville's downtown district, has a bulging calendar of festivities to ring in the holidays.
Tina Marie Polson, events and marketing coordinator, said Brooksville Main Street was created to revitalize downtown Brooksville. "The events are bringing the community together through revitalization," she said. "We want to show them what is here and introduce them to our downtown and have them come back again and revisit."
Downtown Brooksville has become a consistent entertainment stop, thanks to Brooksville Main Street Program. Organizing monthly events that appeal to the community has been instrumental in building its popularity. And the holiday season is the perfect excuse to go large.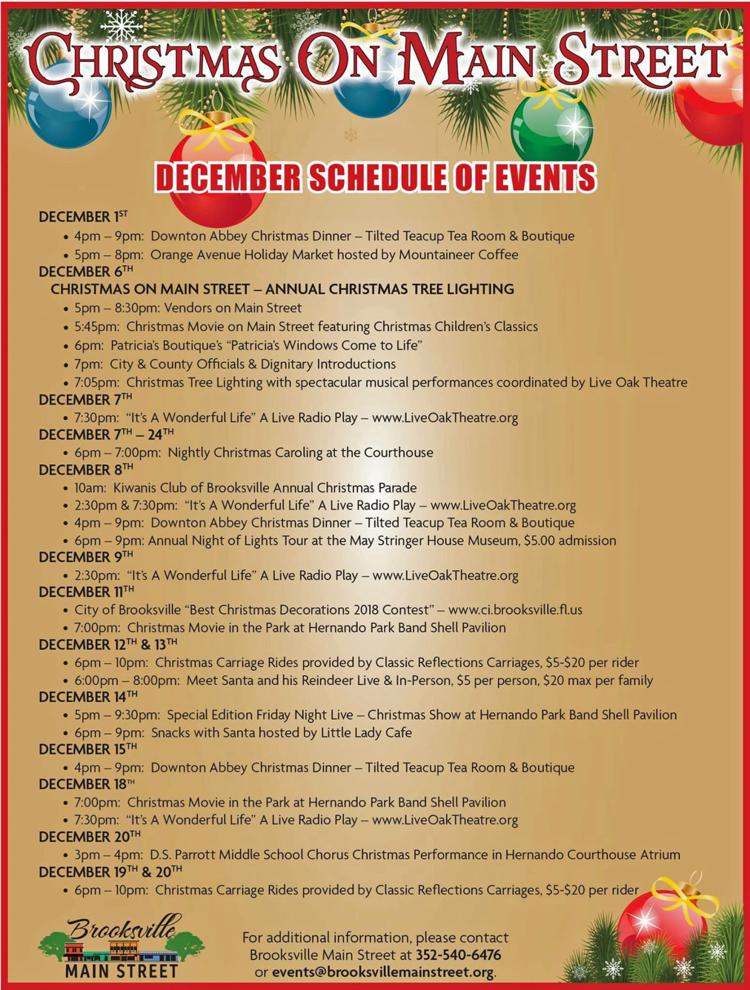 Upcoming holiday events include;
• Christmas Movies in the Park, Dec. 11, "It's a Wonderful Life," and Dec. 18, "Polar Express." Movies are shown at the Hernando Park Band Shell, 205 E. Fort Dade Ave., beginning at 7 p.m. Guests should bring chairs or blankets.
• Santa and his Reindeer, Live & In Person, Dec. 12 and 13, 6-8 p.m. at Hernando Park, 205 E. Fort Dade Ave. Tickets are $5 per person with a $20 family maximum, sold at the gate.
Nightly snow and Christmas music, including live carolers, will also commence throughout the season.
Brooksville Main Street was created in 2016 to bring a positive impact to the city with events designed to introduce and support its thriving urban core.
To date, Main Street has raised over $100,000 from private dollars and over $200,000 in funds provided by our local governments, according to the program's website.
Monthly events, like Friday Night Live Concert Series, scheduled every other Friday, and Uncommonly Artsy, an arts market, the fourth Saturday of every month, have been widely popular, Polson said.
"Having those events going on shows we have consistency. It's not a 'one and done' thing. And we've seen them grow," she added.
Both events are free but provide so much opportunity to bring the community together.
And downtown events aren't just popular with local traffic. Polson said the reach outside of Hernando County has been huge, pulling visitors from as far south as Sarasota.
But clearly the holidays bring out the most creative in small towns. "I get excited when I see the first wreaths go up," Polson said. "The feeling is in the air."
"Everyone enjoys the Christmas (events). It gives that small-town charm."