CLEARWATER — People around the state, nation and the world are working toward achieving Vision Zero, which is a goal to create safer roadways and prevent fatality and serious injury crashes.
Forward Pinellas Board members heard the latest about work being done in the county toward making that goal a reality on Jan. 8.
Forward Pinellas is the county's land use and transportation agency. Vision Zero started in Sweden in the 1990s and has spread to many other locations since that time.
Sarah Caper, principal planner, revealed the logo for the county's campaign, which is called Safe Streets Pinellas. The graphical design uses a crosswalk symbol in place of the letter e.
The premise of Vision Zero is that all fatal and serious injury crashes are preventable, Caper said. But everyone has a different perspective when it comes to roadway safety.
Vision Zero recognizes that people make mistakes. The goal is to create a system that allows for those mistakes and keeps people safe. It requires a diverse group of people working together on a holistic program that balances education, community engagement, enforcement, engineering and evaluation.
Caper talked about two types of countermeasures that are part of the action plan — non-engineering and engineering. Non-engineering includes things such as policy changes. Engineering includes roadway design with safety in mind.
Caper said help would be needed from agency partners and the community. She is currently putting together a taskforce of 15-20 people to provide technical support. She is also looking for as many ambassadors as possible from the community to help spread the word. She is planning demonstration projects to show what works in Pinellas.
"We want to spread the word and get people excited," she said.
A Safe Streets Pinellas summit is tentatively planned for Thursday, Feb. 27. The location has not yet been determined.
Board member Darden Rice, vice-chair of the St. Petersburg Council, said all elected officials should get involved as ambassadors. She suggested using social media to remind people of safety and help change the culture.
Caper agreed that education was a big part of the initiative.
Board member Sandra Bradbury, Pinellas Park mayor, suggested that staff make a flyer that could be given to all the cities and posted on websites. She also suggested reaching out to the school board.
"Adults cross (the street) wherever they want and they're not teaching children about crosswalks or to be mindful of people in crosswalks."
Forward Pinellas Executive Director Whit Blanton pointed out two recent pedestrian fatalities that occurred outside a crosswalk but no crosswalk was located within reasonable walking distance.
"We've got to think about not blaming the victim for not walking in a crosswalk," he said, adding that it might be prudent to look at adding more mid-block crossings.
He said part of the work ahead would be to find out the best places to highlight — crosswalk safety, right turn on red or others. That's one of the purposes of the upcoming summit, he said, along with trying to get everyone involved.
Board member Joanne "Cookie" Kennedy, Indian Rocks Beach mayor representing the beach communities, suggested doing something that helped people better realize what is happening.
"Something that really shocks them," she said.
Caper said she would keep that in mind when planning demonstration projects.
Forward Pinellas Chair David Eggers, county commission vice-chair, pointed out that fatality numbers were down in 2019.
"But still it's a loss of a person every four days," he said.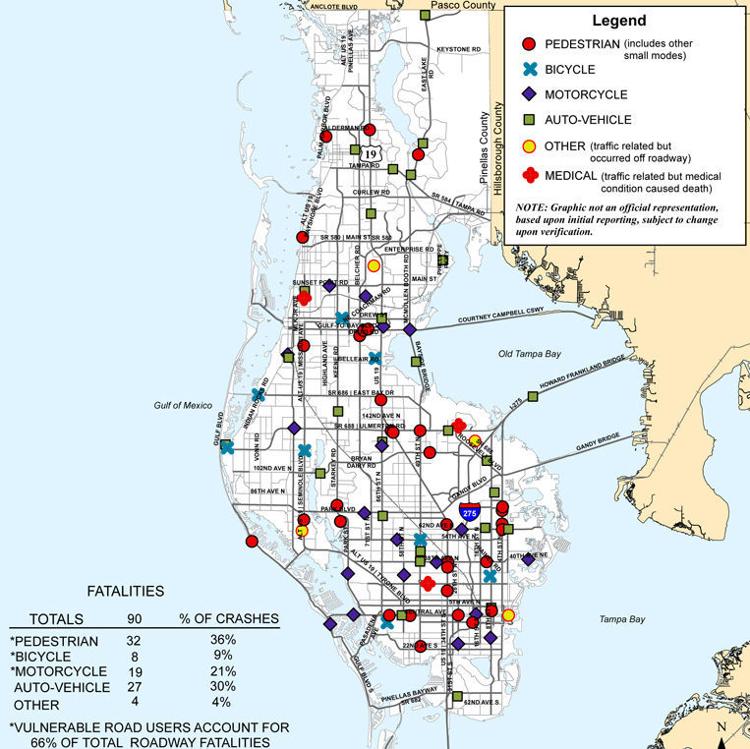 According to data from the U.S. Department of Transportation, 89 fatality crashes with 90 fatalities were reported in Pinellas in 2019 compared to 120 in 2018. One of the crashes was a double fatality.
The highest number reported were pedestrians, 32, which accounted for 36% of all fatality crashes in 2019. In 2018, 39 pedestrian fatalities were reported.
The second highest were vehicle crashes with 27 fatalities or 30%. In 2018, 44 vehicle fatalities were reported. Motorcycles were the next highest number with 19 fatalities or 21%. In 2018, 31 motorcycle fatalities were reported.
The report showed eight bicycle fatalities, 9% of the total, compared to six bicyclists killed in 2018. Another four, or 4%, were listed as other. The numbers do not include medical incidents, such as fatal heart attacks or strokes.
Eggers recommended looking for trends and spotlighting places where people should be extra careful.
Caper said staff was analyzing trends, including seasons, time of the crash and locations.
For more information or to volunteer to be an ambassador, email Caper at scaper@forwardpinellas.org or call 727-464-5695.
Suzette Porter is TBN's Pinellas County editor. She can be reached at sporter@tbnweekly.com.