OLDSMAR – The City Council Chambers building resembled a busy Department of Motor Vehicles branch on June 25, as dozens of north county residents showed up for a public workshop on the Federal Emergency Management Association's new flood maps.
The third and final workshop staged by Pinellas County officials came at the request of Oldsmar leaders, and the four-hour session, which did not feature a formal presentation, spanned several floors and rooms.
Residents were greeted at the door and given a number in the downstairs lobby before being called into the main council chambers, where officials from several county departments and statewide organizations were on hand to answer questions regarding the proposed changes to FEMA's Flood Insurance Rate Maps. The proposed FIRM changes are a result of several years of research collecting new climate, storm surge and hurricane data.
"You want to be prepared for flooding if you live in Florida," Lisa Foster, floodplain administrator for the Pinellas County Public Works Department, said. "There's a lot of waterfront property in Florida, but it's not only coastal flooding you need to be concerned about. Urban, or inland, flooding is a big issue, too. There are a lot of rivers and creeks and ponds in this state and their capacity can only handle so much."
Foster said the probability maps "show the flood risk for a one-percent annual chance storm, meaning every year there's a one-percent chance of that flood happening.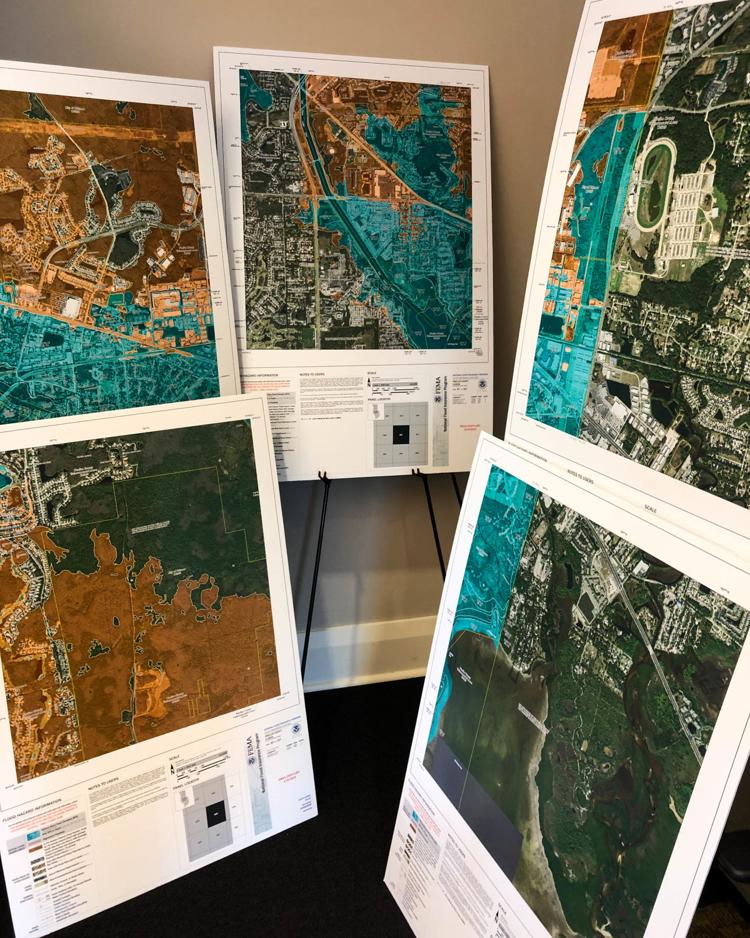 "But just because you're in a low-risk zone doesn't mean it won't flood. Hurricane Michael is a good example of that. A lot of areas that were in Zone X, or the lowest risk of flooding, were completely wiped out. You just never know and that's why we're doing this, because we want to get the word out. Our objective is to make sure the residents are informed and prepared."
Indeed, nearly 150 residents came through the doors with varying levels of concern about whether the new maps would put them in a higher probability zone for flooding, thus leading to a potential increase in insurance rates.
"The main reason I came today was because according to the county website, under some conditions my area could flood," Oldsmar resident Nancy Armitage said. "I'm not web savvy and I didn't know how to interpret it, so I thought I'd come down and ask some questions. They definitely gave me the info that my flood zone hasn't changed. So, I think I got what they were offering. I think this was a good idea."
According to Mayor Eric Seidel, Oldsmar residents need to be aware of the increased flood risks and subsequent changes to the maps in the area.
"Looking at the changes in the maps, our city is probably most impacted of cities in the county," Seidel said, noting the revised maps show 80 percent of properties in the city are in a potential flood zone. "So, we think it's important to get as much info to the citizens as possible to prepare them for when the changes take place."
The mayor added: "Probably the most important thing to do is see where you are on the new map and if you're in the flood zone, go get flood insurance now because you'll save some money because you'll be grandfathered in. Where we live, at the top of the bay, everyone should have flood insurance whether they're in a high-risk zone or not."
Due to the county's participation in the National Flood Insurance Program, policies are available for as little as $480 and less for qualified applicants, Foster noted. That includes renters, she added.
FEMA has imposed a deadline of July 31 for residents to challenge changes to their flood zoning.
Safety Harbor resident Gisela Bennie said she was "incredibly impressed" with the workshop.
"My house is not in a flood zone but when you hear there are changes, you come down to check it out," Bennie said. "I was very happy to find out nothing has changed and I'm not in a flood zone, and there is an inexpensive insurance policy available, too. This was very pleasurable, so helpful and smooth. I'm impressed with the county and with Oldsmar for providing this forum for the residents."