PALM HARBOR – Tidying up and maximizing space is poised to be a hot trend in 2019 thanks to a rash of books and TV shows on the subject, and after unveiling a long-awaited remodel and expansion last week, it appears the East Lake Community Library has jumped on the de-cluttering bandwagon.
A tour of the facility, located at 4125 East Lake Road, revealed it is a model of organized efficiency; even after the recent completion of a 2,500-square-foot addition that brought much needed office, meeting and gathering space, the ELCL is still the smallest library in the county, according to Director Lois Eannel.
"We serve around 100,000 visitors a year and this expansion pushed us to just under 9,000 square feet," Eannel said of the $1.4 million project, which was funded by state grants, a BP fund allocation and private donations. "For comparison, the Palm Harbor Library, where I worked for 15 years, is about 27,000-square-feet and serves about 60,000 people a year."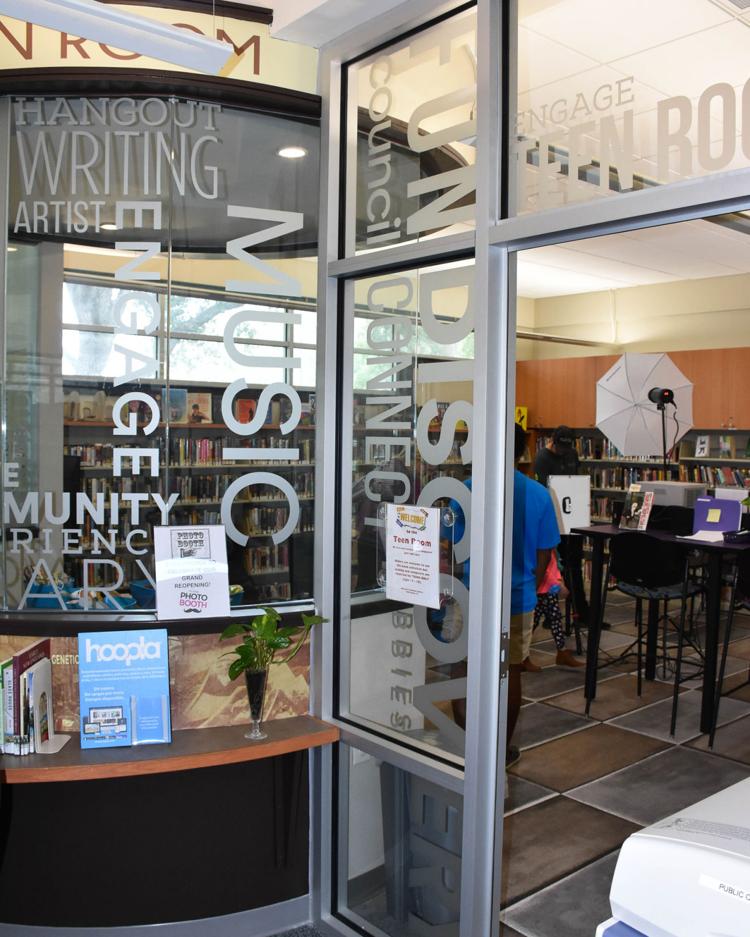 Like its director, a smiling, diminutive 71-year-old lifelong librarian who earned the nickname the "Tiny Terrorist" for her tenacity in getting projects pushed through, it would be foolish to judge the East Lake Community Library by its cover.
What the boxy building lacks in size it makes up for in amenities, including a new community room, with a high-tech audio video system, that's available for meetings and events; a larger, relocated children's section complete with computers, colorful art and hands-on toys and games; office and sorting space for staffers who've long been crammed into cubicles and closets; and a glass-walled teen room featuring gaming chairs and consoles and mobile-device charging stations.
"Teens are very active and very important to our community, and they deserve their own space," Eannel said, adding, "We have to do things like this to stay relevant. We're not just a book repository anymore."
Other features include a genealogy center; a small outdoor space for open-air readings and events; an outdoor book drop-off; and neat, organized shelves, featuring a "small but extra high-quality" selection of books, that are angled to maximize floor space, according to Eannel.
"We're limited by space," she said, "but we utilize every bit of space we have."
Based on the reactions from several open house attendees, the library's expansion, which began in January 2018, took what was already a great facility to another level.
"This is absolutely gorgeous," Holiday resident Ann Marie Chiarello said as her 5-year-old daughter, Annabella, ate cookies in the new community room. "We've been coming here since she was a baby and we were missing it when it was closed. I'm glad it's open again. I think it's going to be a lot better for children."
Kathleen Porter, a longtime educator and administrator who owns a private school in Dunedin, said she was impressed by the library's staff, particularly the volunteers in the teen room.
"I go to all the local libraries but had never been to this one and I think it's wonderful," Porter said as she sat with her friend, Clara Hilgert, at the genealogy center. "The people are so nice and the kids in the teen room are outstanding. I work with kids and you don't see kids like this every day—so helpful and friendly and informative. I was really impressed."
Asked what she thought of the remodeled library, Porter said "I think it's perfect. It couldn't be better."
While Eannel is admittedly thrilled with the expansion, she would disagree with Porter on that point.
In addition to an upcoming project that will add 15 new parking spots to the 40-space lot, the East Lake Community Library director is already looking towards phase two of the expansion plan.
"When we built the community room we went with a flat roof because, due to our limited footprint, our only option is to go up, not out," Eannel said of the plan to add a second floor. "I don't bemoan the fact that we're a small library, but being in an unincorporated area, we have to fight for our fair share. We're not under the same mandates as other libraries; we have to ask and apply for certain funds.
The avowed "Tiny Terrorist" said she will continue to push for the project before she hands over her keys for good.
"I'm hoping to make five more years, have the expansion done and pass it on to my successor," Eannel said. "I'm only the temporary steward here. This library will be here long after I'm gone."