NEW PORT RICHEY — "I'm Dreaming of a White Christmas" is normally a Christmas carol that no Florida resident can relate to. Unless you attended Winterfest that is.
Dr. Unger's Annual Winterfest was held in Sims Park on Nov. 30 and Dec. 1, treating families to free holiday-themed activities, rides, and even snow.
For the ninth year in a row, the local chiropractor threw the holiday event that drew thousands of attendees.
Stephen Unger practices chiropractic medicine for the Florida Wellness Medical Group. He started the event because he didn't like seeing similar events charging money for everything, which could result in some families not being able to afford attendance or to partake in the festivities.
Unger said, "I told my wife, 'We're going to throw an event and we're not going to charge anything for anyone.'"
His favorite part is seeing how excited the children get, and how grateful they are for the event.
"Every year, a kid will track me down just to thank me," Unger said.
The first night was held in partnership with the West Pasco Chamber of Commerce. On Friday, the chamber held a tree and holiday card lane lighting ceremony. There was also caroling and a showing of the popular Will Ferrell Christmas movie, "Elf," presented by Cinema 6.
On Saturday, the fun continued. There were photo opportunities with Santa and Mrs. Claus and the night ended with the Cotee River Christmas Boat Parade.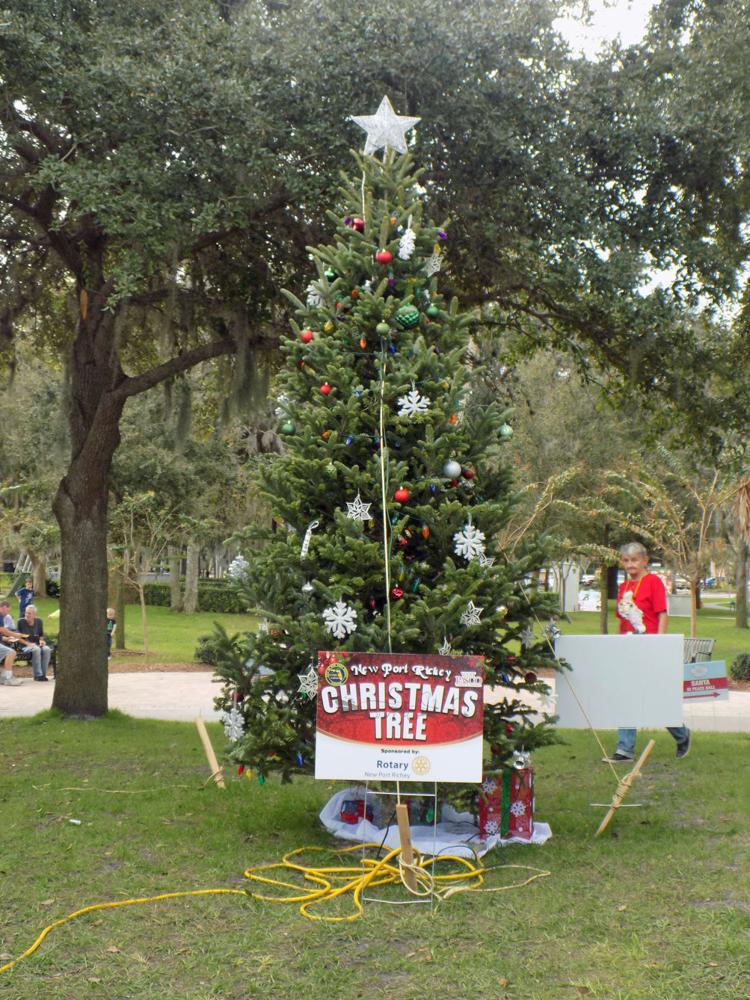 Both days featured vendors, bouncy houses, an inflatable snow globe, and live performances from local high school bands and dance teams. Along with a variety of food vendors, there were about 40 businesses and organizations that set up booths at the event.
The aspect that drew the most visitors to the event was the 30 tons of real snow that was used for the snow slides, which allowed children of all ages to zoom down a hill while riding a snow tube.
Tiffany Frost came from Hernando County because she wanted her children, who were born in Florida, to see snow for the first time. Frost is from New York while her husband came here from Chicago, so they are no strangers to snow. She was also impressed by the fact that Unger was using the holiday spirit to make a free festive weekend in Pasco.
"I saw that it was hosted by a doctor and I thought it was phenomenal that a man was giving back to his community," Frost said.
The event hasn't always been held in downtown New Port Richey. In the past, Winterfest was held in the Longleaf community, in the Trinity area, and after that, it was moved to the fields behind Seven Springs Middle School.
Last year, Greater New Port Richey Main Street asked Unger to bring it over to Sims Park in order to entertain crowds who were waiting for the Cotee River Boat Parade.
Colleen Naumann works with Echo Blue Print, the company that does printing for the Florida Wellness Medical Group office. She volunteered for the second year as a coordinator for the event. She said all the stress she and others endured to organize the event was worth it for the end result of seeing all the kids run around and have fun.
More than 5,000 people flocked to the event last year, and Naumann predicted an even larger turn out this year.
Along with the chamber and New Port Richey Main Street, the Pasco Performing Arts Council and the Rotary Clubs of Trinity and New Port Richey also gave a helping hand, as well as many sponsors.
Money raised at Winterfest went to the Health Cares Foundation Scholarship for the Arts. It was founded by Unger and the mission is to give scholarships to local art programs.