NEW PORT RICHEY — Keeping Pasco clean should be a priority for all residents, and over 300 volunteers did their part during a cleanup in New Port Richey.
On Sept. 15, the Cotee River Cleanup was held by the New Port Richey Recreation and Aquatic Center. It was based in Sims Park, but volunteers picked up trash in a variety of surrounding areas such as the recreation center, the city's James E. Grey Preserve, which straddles the Pithlachascotee river, and along Main Street and City Hall.
The cleanup was held as part of International Coastal Cleanup, a worldwide effort. The county cleanups were presented by Pasco County and Keep Pasco Beautiful. Other clean up events were held on the same day in Pasco County's Anclote Gulf Park and Strauber Memorial Highway, both in the Holiday area; the Werner-Boyce Salt Springs State Park, in Port Richey; Hudson Beach; and East and Central Pasco areas like Lacoochee, Dade City, Land O'Lakes and Wesley Chapel.
By the end of the afternoon, a total of 321 volunteers helped during the event, their highest number ever, according to New Port Richey Parks and Recreation Director Elaine Smith. About 70 of the volunteers came from River Ridge High School ROTC. Other organizations were involved such as Boy Scout and Girls Scout troops.
Along with people on land, there were also kayakers and other boaters to clean along the river.
The annual event was rescheduled last year due to Hurricane Irma.
Kiley Griggs, 9, and her parents, Lori and Jason, wanted to help clean up Sims Park because they wanted to make it a safe and clean area for residents to enjoy. Kiley, however, had her eyes on a bigger goal.
"I want to save the ocean," Kiley said proudly.
"We spend a lot of time in this park and along the river walk so it's giving back to the community," said Lori. She also wanted to teach her daughter social responsibility.
Jill Sparks, aquatic supervisor at the city recreation center, liked how the cleanup brought the public together to clean up the water and parks in our community.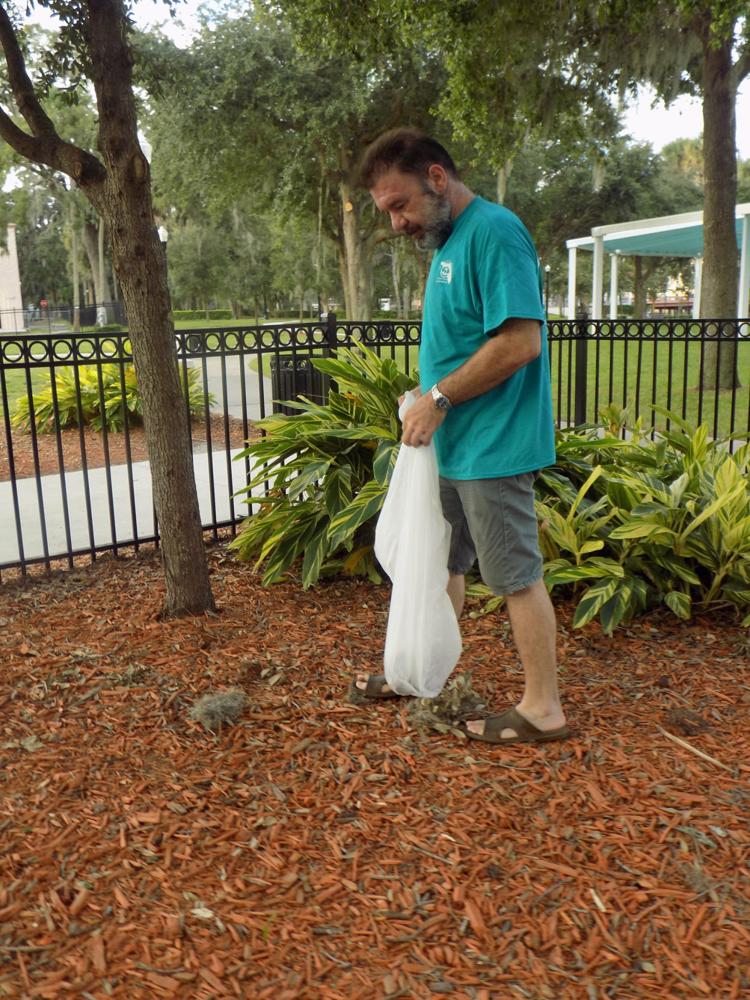 "From how much trash there is constantly laying around, it's nice to get a day where everyone can just get together and just knock it all out. Once you have a whole group, it makes it so easy and so quick, and it's nice for everyone to bond," said Sparks.
Dave Montigny came to volunteer by himself because it was something that had been piquing his interest. "I always wanted to do it," he said.
According to the data from the 2017 International Coastal Cleanup on oceanconservancy.org, the top three items picked up across the United States were cigarette butts, 842,837; food wrappers, 345,241; and plastic bottle caps, 286,678.
The county provided the large trash bin to be filled. Prior to press time, Keep Pasco Beautiful had not responded to a request for the total amount of litter picked up.