HOLIDAY — The fourth Walk Around the Block bus tour of the Colonial Hills area attracted some 113 local leaders this morning to see progress in the four neighborhoods of the large community bordering S.R. 54 and U.S. 19.
"We have moved serious mountains" on code enforcement and crime control, Kelly Miller, president of Colonial Hills Civic Association, said in opening remarks.
Miller showed the new entrance sign at the S.R. 54 entrance into the subdivision, one of many upgrades.
Goals remain as part of Project New Hope. Homeowners, not renters, now commit most code violations, roughly 53 percent, Miller mentioned. She and other community leaders would like to cut down on the number of trash collection trucks on subdivision streets.
"It's definitely making a difference," Property Appraiser Gary Joiner commented about Colonial Hills efforts. Born and raised here, Joiner recalled the area used to look "pristine" in early days. The development of Colonial Hills began in 1967, when large areas of West Pasco were being turned into retirement communities for people from the Northeast and Midwest.
"We want to be a good neighbor," Parker Hirons, director of land development for the Central Division of Lennar Corp., said about Copperspring, the first area to begin construction in June.
Two busloads of participants stopped at Centennial Park Branch Library, on Moog Road, which narrowly averted shutting down during hard budgetary times for Pasco County government caused by the Great Recession. Voters will decide a referendum this fall on whether the county should create a funding vehicle known as a municipal services benefit unit. If approved, the MSBU would generate additional dollars for parks and libraries to compensate for cutbacks on staff and maintenance during the 2008-2009 recession.
Commissioner Jack Mariano and many others saw the home Pasco Opportunity Program and Colonial Hills are rebuilding to help boost affordable housing. The POP home is on Saren Drive.
The lot at the Colonial Hills entrance could be converted to a dog park, apartments, or even for boat storage, among many suggestions from officials, Miller pointed out.
A RaceTrac gas station on the northwestern corner of Madison Street and S.R. 54 is among new businesses, Miller noted. Construction could start soon on the southeast corner of the intersection where Lennar intends to build homes.
"Great Place for a park and kayak launch right on the Anclote River," Miller wrote in her opening slide show about areas that Lennar might set aside.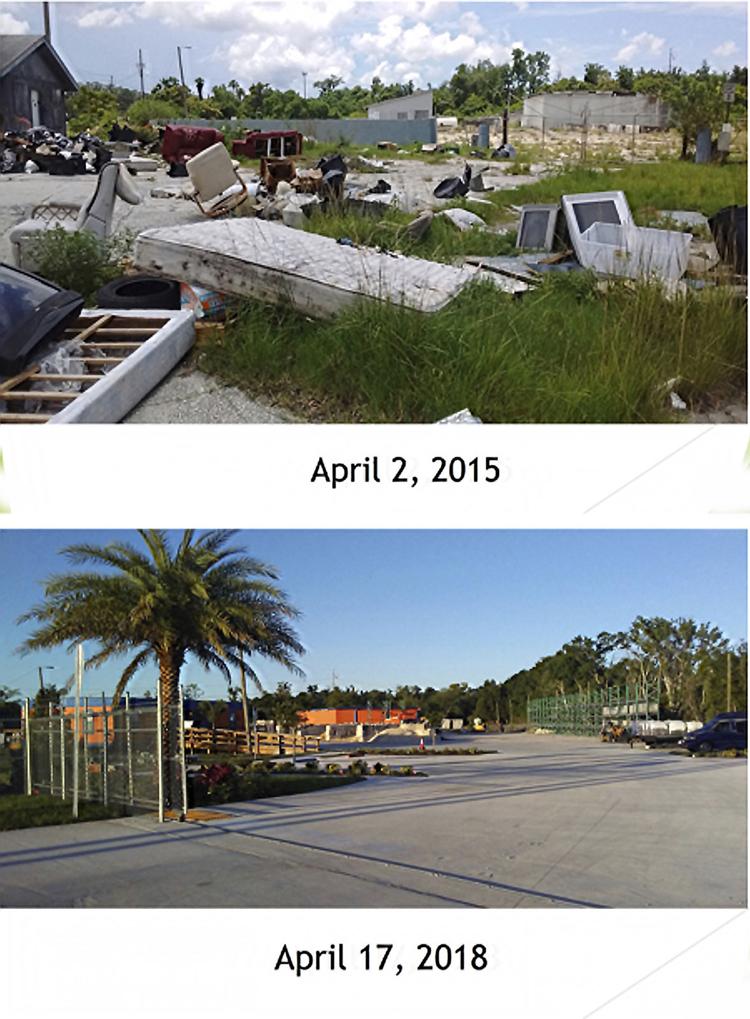 Many firms have cooperated in cleaning up sites, Miller emphasized. Mike Mougras took pride in showing the Mu-Grow Brothers landscaping business, which transformed an illegal dumping site along Grand Boulevard.
Many streets have been repaved since flooding in 2015 made them impassable.
Miller also mentioned LED street lights are planned, starting in May.
Since October, the Duke Energy Saver Program has saved money for residents, Miller said during the opening presentation at Elfers Center.
To keep residents involved, the civic association will mail requests for donations for the Blight Elimination Neighborhood Upkeep at $35 a year. The notices about the new program will be mailed in May. The funds could help with maintenance to entrances, codes, neighborhood improvement projects, as well as social events for seniors and residents.
Participants, Miller said, included: County Administrator Dan Biles, Commissioner Jack Mariano and representatives of many Pasco County departments; state rep. Amber Mariano, R-Port Richey; New Port Richey Mayor Rob Marlowe; nonprofit groups CARES, United Way, Council of Neighborhood Associations, Volunteer Way, West Pasco Habitat for Humanity and Metropolitan Ministries; consulting firms, business owners, investors and residents, Miller said during introductions.
Others also represented the office of U.S. Rep. Gus Bilirakis, R-Palm Harbor; the Pasco Property Appraiser, Tax Collector and Clerk and Comptroller offices; Pasco Fire Marshall; and Pasco Sheriff's Office.
The association also honored some of its own, Sheila Mazza, Mary Helen Duke and Lori Krinkey.