HUDSON — In the acclaimed TV documentary series "The Civil War," the narrator, historian David McCullough, declared more than once that "The Civil War was fought in 10,000 places."
As far as anyone knows, the area now known as Hudson wasn't one of them. Probably the closest the War Between the States came was a relatively small-scale July 1864 engagement known as the Brooksville Raid.
Still, the Civil War is a key event in American history, and it continues to be discussed and even reenacted. On the first weekend of October, visitors to Pasco County's Hudson Regional Library were greeted by two Southern belles welcoming people into the life of men and women in the 1860s.
On Oct. 6, the library held a Civil War Living History event featuring a walk-through exhibit with demonstrations, re-enactors and displays. There was representation for the Confederacy, Union and Navy.
There were a variety Civil War living examples displayed, such as weapons, the home front and camp life. Visitors also had the opportunity to dress-up in authentic gear and dresses.
In addition, the culinarily brave of heart could have a taste of hard tack. Hard tack is a simple cracker that was often a part of Civil War military rations, along with desiccated vegetables and occasional meat. Hard tack was commonly soaked in coffee to soften the hard biscuit.
These sorts of meager meals and the appalling sanitary conditions around military camps were one of the main reason malnutrition and disease killed more Civil War soldiers and sailors than wounds inflicted in battle.
Wendy Rutherford, Hudson Regional library staff member, wanted to bring a unique Civil War experience to the library patrons.
"I thought it would be something different because we haven't done anything like that before," Rutherford said. "I'm always looking for new and exciting things to bring to our community."
When asked what she learned, she said that she could have never handled the wool clothing in the Florida heat and living in a cramped tent.
"I would not have wanted to be a Civil War soldier — that's what I learned," Rutherford said. "I think it makes us appreciate what we have now."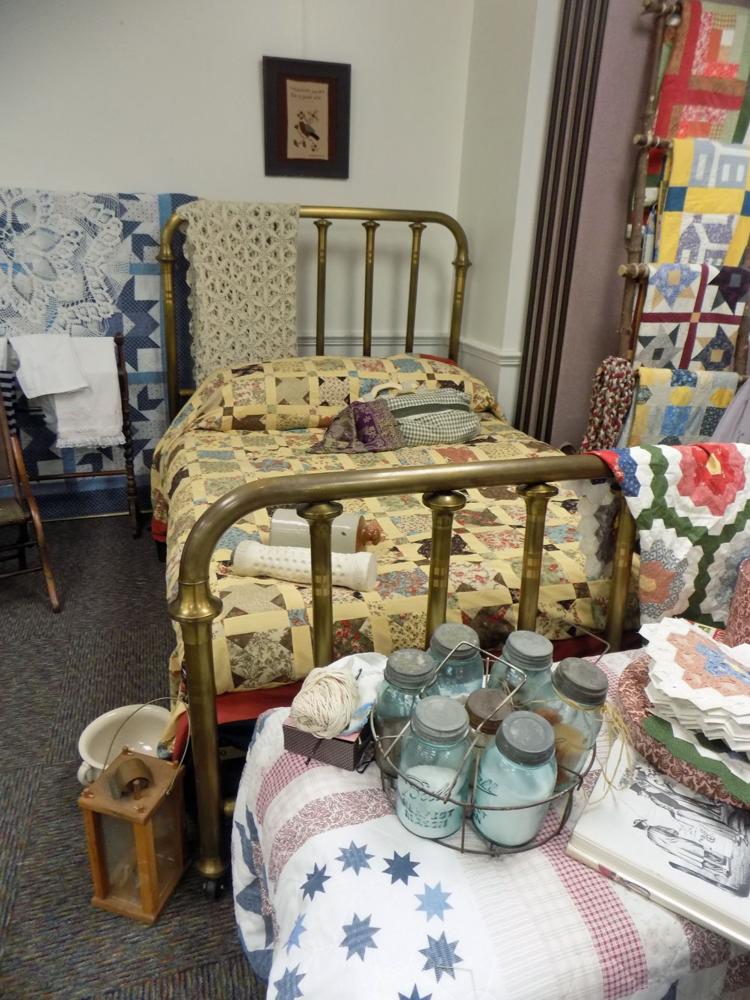 Christine Griffin, a receiving technician at the library, has been a Union impressionist for 25 years. At the event, she was playing the part of a captain's wife. She oversaw the "dress up" area of the exhibit, which is one of the main aspects of reenacting that drew her in.
"I wanted to dress like this, I wanted to wear those big dresses," Griffin said. It is also the source of the main question that people ask: "Are those clothes hot?"
To which she always replies, "Yes, yes they are."
Other roles that she has played in the past include a widow and a merchant's daughter.
Authentic re-enactment, especially large events, means that Griffin and her fellow re-enactors go the whole nine yards, like sleeping in tents and cooking over a fire.
She likes being able to tell people, "You read about it in a book, let me tell you what it's really like."
Griffin is a part of the re-enactment group 17th Connecticut, Company H. During the Civil War, elements of the real 17th Connecticut Volunteer Infantry were stationed in the Jacksonville-St. Augustine area. They were involved in small skirmishes and raids, but their main job was disrupting Confederate supply lines.
There were 11 volunteers in total from several re-enactment groups.
Shanah Moore brought her three children to the exhibit because it always piqued her interest.
"I've always wanted to see one of those Civil War reenactments so when we came in and we saw the girls in their ballgown costumes and they told us to come over, I thought that would be so neat. It's like a museum in here," Moore said.
She also hoped it would give her 12-year-old daughter, Rebecca, a history lesson, who summed the exhibit up in one word: cool.
"Bringing that experience to people makes history interesting and exciting," Griffin said. "You can get kids engaged and you can get people talking about it and seeing it and touching it and feeling it, which is so much more exciting than reading names and dates in a book."