NEW PORT RICHEY — There is no shortage of exercise equipment available, from large machines like treadmills and ellipticals to small items such as mats, dumbbells and medicine balls. But did you know that the same cord you use to strap items to the roof of a car can be used to help increase muscle strength and endurance?
Bungee fitness is a resistance training program that uses bungee cords that hang from the ceiling for an anti-gravity and motion-based workout. It is a low impact exercise that allows people to work out without being restricted by gravity or its possible negative impact on sensitive bones or joints. While flying through the air, you can exercise all muscle groups while not putting any stress on the joints.
On Nov. 1, Cynthia Dombrowski opened up Flyin Into Fitness Bungee Studio in the Grand Trinity Plaza at 4116 Little Road.
Dombrowski discovered the exercise method when she met the owner and maker of Astro Durance Bungee Systems in Cape Coral. She especially liked how inclusive the exercise was for people. It can be effective for men and women of any age that weigh between 60 to 300 pounds. A harness fitting is required before any class.
Bungee training teaches increased repetitive muscle action, which is important when it comes to developing muscle strength and endurance.
Without being bound to the floor, participants can move in directions that gravity based, skeletal level workouts will not allow while stretching and developing muscle groups that aren't possible with traditional gym movements.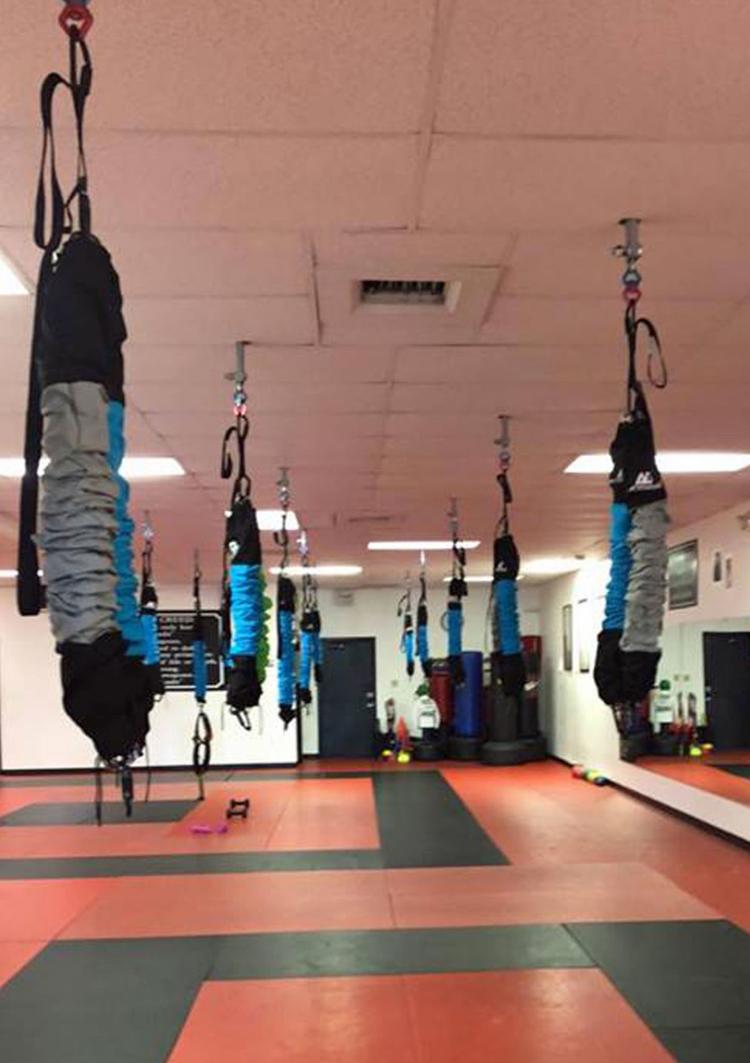 Bungee fitness focuses on extreme core development.
"It allows for rapid increased cardio, muscle strengthening, greater endurance, increased stamina, improved flexibility and balance, while maximizing a person's metabolism allowing the body to burn fat," Dombrowski said. "Bungee movements increase the heart and respiratory rate and increase blood and oxygen flow throughout the body in as little as 15 seconds."
She wants to emphasize the enjoyment that people can experience by using bungee cords to fly and jump to get into shape.
"My slogan is 'Where fitness is made fun,' " Dombrowski said. "Get your bungee on is something else we say a lot."
While there are some misconceptions about how easy the exercise is, in just a 30-minute workout, Dombrowski said, clients can burn up to 1,200 calories and have their metabolisms continuing to burn for the next 24 hours.
It offers people the buoyancy to perform exercises they may not be able to perform without assistance, and it can be used as a rehabilitation tool. Dombrowski has met a woman with no kneecaps participate in the work outs, as well as a child that has cerebral palsy.
"It's a revolutionary concept, the future of fitness," the studio owner said.
The studio is open from 6:30 a.m. until 2:30 p.m. Monday through Friday and from 7 a.m. until noon Saturdays. Beginner and intermediate classes are available. Walk-ins are accepted but need to arrive at least 15 minutes prior to class if it is their first visit. Children's classes start at age 8.
Private group bookings are available upon request. Birthday parties and team building classes are also offered.
For more information, call 774-364-5001 or visit the website at www.flyinintofitness.com or the Facebook page.