TARPON SPRINGS — The memories of what happened at 199 Grand Blvd. in the early morning hours of Sunday, Dec. 21, 2014, are still raw for Tarpon Springs Police Officer Charlie Kondek's widow, Teresa, something a visit to the scene of her husband's fatal on-duty shooting brought back in full force last year.
"That was such a horrible night," she recalled of her walk in the rain around the Eureka Apartment complex on the fifth anniversary of Charlie's death. "I wish I never went back there, and I never plan to do it again."
Kondek's feelings about the complex, a dark and shaded collection of six to eight units fronted by a two-story structure in a state of disrepair, could soon change, however, thanks to the work of a group of lifelong Tarpon Springs residents.
Local attorney George Andriotis and his partner, Chas Hollan, are about to start a massive renovation of the complex after purchasing the property from Commissioner Townsend Tarapani and former vice-mayor David Banther's brokerage firm, Tarapani, Banther & Associates, last month, and much like the work they've done on other historic properties in town, they hope their latest project will help bring the blighted site out of the dark and into the light.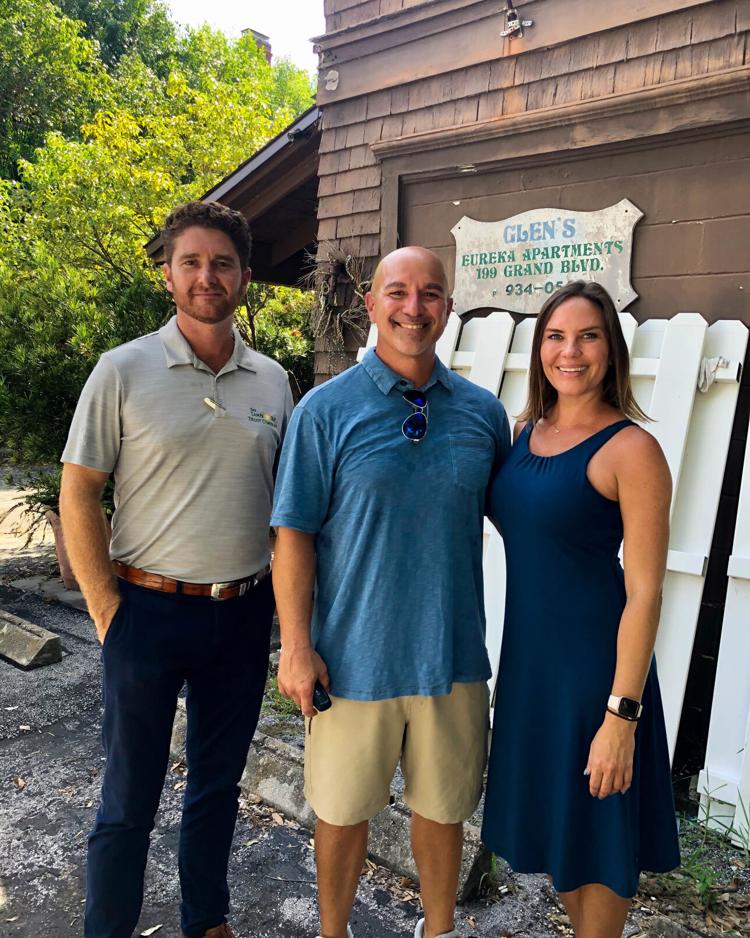 "It is a significant site because of the shooting that took place here," Tarapani said Sept. 4. "That was an incredibly sad time in Tarpon Springs and Charlie's service was incredibly moving for everyone in the city. So, for us to be able to participate in the redevelopment George is playing an active role in means a lot to all of us. TB&A is trying to play an active role in the redevelopment of this town, and we think this is a win-win for everybody."
The Eureka renovation is just the latest redevelopment project undertaken by Andriotis and Hollan, who have already renovated one century-plus-old home around the corner from the complex and are in the process of redoing another long-vacant house across the street from St. Nicholas Greek Orthodox Cathedral.
"I love the city," Andriotis said when asked what drew him to start redeveloping properties in 2018. "My grandfather came here as a sponge diver from Greece. My dad and my grandfather loved this town, and they made me love this town. We pass by these houses to look at them because we love them. So, to be able to restore them and bring them back to life is incredibly rewarding. It means a lot to me."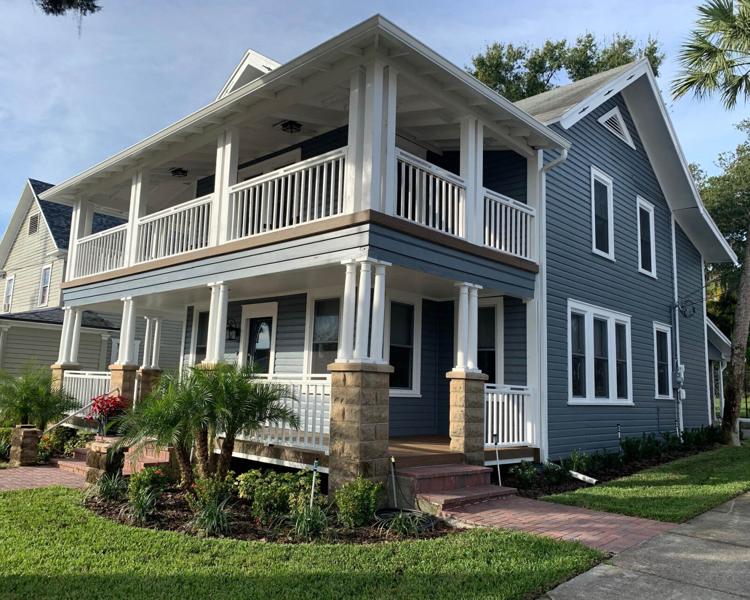 For Tarapani, whose family history in Tarpon dates more than a century, and Banther, a Pinellas County native, the ability to bring these historic properties back to life is about more than money, it's about their love of the city and doing what they can to help improve it.
"It takes a unique brokerage firm to trade these types of properties," said Banther, who termed out of office in 2019. "They've been in their families for generations and they're not going to let just any agent sell them and also have a purpose behind it like what George is doing. These are different kinds of buildings and they're doing visibly good things for the town."
Tarapani added, "We obviously want what's best for the town and people always say, 'why can't the city do this or do that?' The city does a lot but can't do it all. Public initiative needs to be followed by private investment and we see both sides so we can target blighted areas and put them in people's hands we have confidence they have the ability to significantly restore the property."
Turning an old home into a modern rental property is one thing.
But for Andriotis and Hollan, who work with interior designers and has an eye for blending the right mix of old and new, they understand restoring the Eureka complex is more sensitive than most projects.
"We want to change the image of it, definitely, and that means helping get the tenants out, cleaning it up and fixing it up and changing the image of that area," Andriotis said, noting he planned to start the work immediately with an estimated timeframe of three to six months for completion.
"My vision is to open it up as much as possible," Hollan added. "Remove all the bushes and shrubs and growth and help remove the stigma associated with this site. We want to bring the dark into the light."
When told of the pair's plan to convert the complex, Teresa Kondek said she was thrilled.
"It'll always be the last place my husband was alive so to see it turned into something better would be amazing," Kondek said via text, adding, "having Charlie included in that change would mean the world to me."
Asked if he planned to include a tribute to "Charlie K." on the renovated property, Andriotis had this message for the Kondek family. "We want to let the Kondek family know that Officer Kondek has not been forgotten and we will make sure he is part of the redevelopment of the property," he said via email, adding, "We plan, with Mrs. Kondek's approval, to include his memory in our plans."
Teresa Kondek's response when she heard the news?
"I'm crying!" she wrote. "I'm so grateful they would want to do this for him. And they're strangers! I just wanted to see if they were interested in making a place with such horrible memories into a place that's not recognizable anymore."