SPRING HILL — Empathizing with another's challenge is one thing. But fully embracing the obstacles in the path of someone navigating a world of darkness is entirely another.
But that is exactly what more than 130 guests did at Silverthorn Country Club Feb. 10 when Lighthouse for the Visually Impaired and Blind held its annual Dining in the Dark fundraising event. Attendees wore special glasses that simulated vision loss or were blindfolded so they could participate in the dark with a meal, a selfie contest, a silent auction and dancing. And they were held accountable with the promise of no peeking violations.
This event included a meal, a selfie contest, a silent auction, no-peeking violations, and of course, dancing, according to Patricia Porter, grants coordinator and newsletter editor for Lighthouse.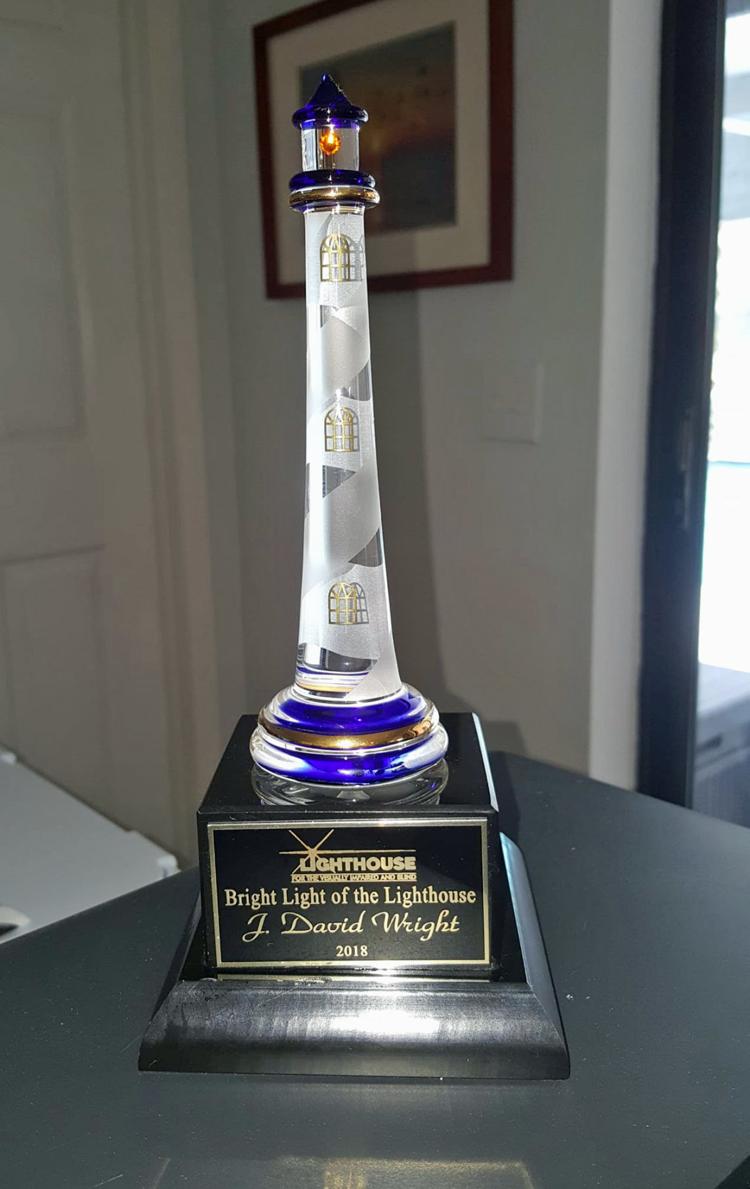 Many of these activities were done in the dark, or while wearing special glasses to simulate vision loss caused by various eye conditions.
This year, violinist Hailey Skoglund played during the reception and dinner, thus enhancing the overall Dining in the Dark experience. Hailey is a visually impaired high school and college student who has used Lighthouse services to increase her independence.
Lighthouse conferred its Bright Light Award on photographer, J. David Wright, who helps many nonprofits, including the Lighthouse, tell their stories.
Two speakers shared their battles with vision impairment and the aid from Lighthouse services: Audrey Flege, a parent of two visually impaired children who are meeting their developmental milestones with the help of Lighthouse's Early Intervention program; and Gigi Citarella, a visually impaired woman who used the Independent Living Skills Program in the 1990s to develop the adaptive skills needed to care for herself, her children, and her home.
The Hernando Sheriff Office's SWAT team was also presented with an award of appreciation for its support of the Lighthouse, and for guiding our Dining in the Dark guests safely in the dark using night vision.
"Guests of this year's event told us many things," said Patricia Porter. "Many said they have great respect for people who are blind because it is very challenging to eat salad without sight.
"Some said, even with instruction, it was very difficult to find their beverages and use cutlery with confidence, because they normally relied on their sight and not their sense of touch in order to eat."
One visually impaired person, according to Porter, said she is happy her family had the Dining in the Dark experience because while they live with her and her vision loss, they really don't understand what it's like to not see or to not see well.
Some of the event's proceeds this year will help the Lighthouse build its new facility on Ridge Road in New Port Richey, with a groundbreaking on March 15. Go online to www.lvib.org to learn more.
Sponsors and donors for Dining in the Dark included: Publix Super Markets Charities; Lema Construction; Synovus Securities; Citarella Termite & Pest Management; H.T. Mai Inc.; PDQ- FL- GA Restaurant Holdings; and Raymond James.
For more information about Lighthouse for the Visually Impaired and Blind, visit their website at www.lvib.org.