March in the Sunshine State typically means three things — spring training, spring break and chamber of commerce-worthy weather.
This March, Forward Pinellas will host its second annual Bike Your Own City campaign, a self-guided initiative that combines the fun of a scavenger hunt with the thrill of exploring a community by bicycle. It is designed to coincide with Florida Bike Month and take advantage of March's ideal cycling conditions.
According to organizers, Bike Your Own City, which is free and open to cyclists of all ages and skill levels, is scheduled to run through March 31 and asks participants to find 20 items related to bike safety in their community and then submit a "selfie" from each site online.
"For this year's Bike Your Own City scavenger hunt, we're asking people to find items in their community related to bike safety," said Amy Elmore, communications and program outreach manager for Forward Pinellas, the county's land use and transportation planning agency. "In the past we've done these in sponsored cities — for example we did one in Safety Harbor last fall — but this time because it's Florida Bike Month we wanted everyone to be able to participate."
Elmore said Bike Your Own City participants are required to register online and once registered they will receive the scavenger hunt locations and instructions how to show your selfies. She noted the events are typically designed to be huge get-togethers for all the cyclists, but COVID-19 forced them to rethink their strategy and pivot to a virtual, self-guided tour.
"Before the pandemic we'd get together in person and go over bike safety elements in the neighborhood," she said. "After COVID we were forced to rethink how we could hold the event while still promoting bike safety advocacy safely."
The result is a self-guided tour that encourages people to get out in their community and enjoy the benefits of cycling while social distancing.
"We wanted to bring the community together even though everyone is apart," Elmore said.
In addition to the scavenger hunt component, Bike Your Own City features several cool elements, including the opportunity for participants to support local businesses as well as win prizes, including bike lights, gift cards and more. The campaign also includes a Tuesday Trivia contest, where answering questions on Forward Pinellas' social media sites can earn winners gift certificates to local bike shops.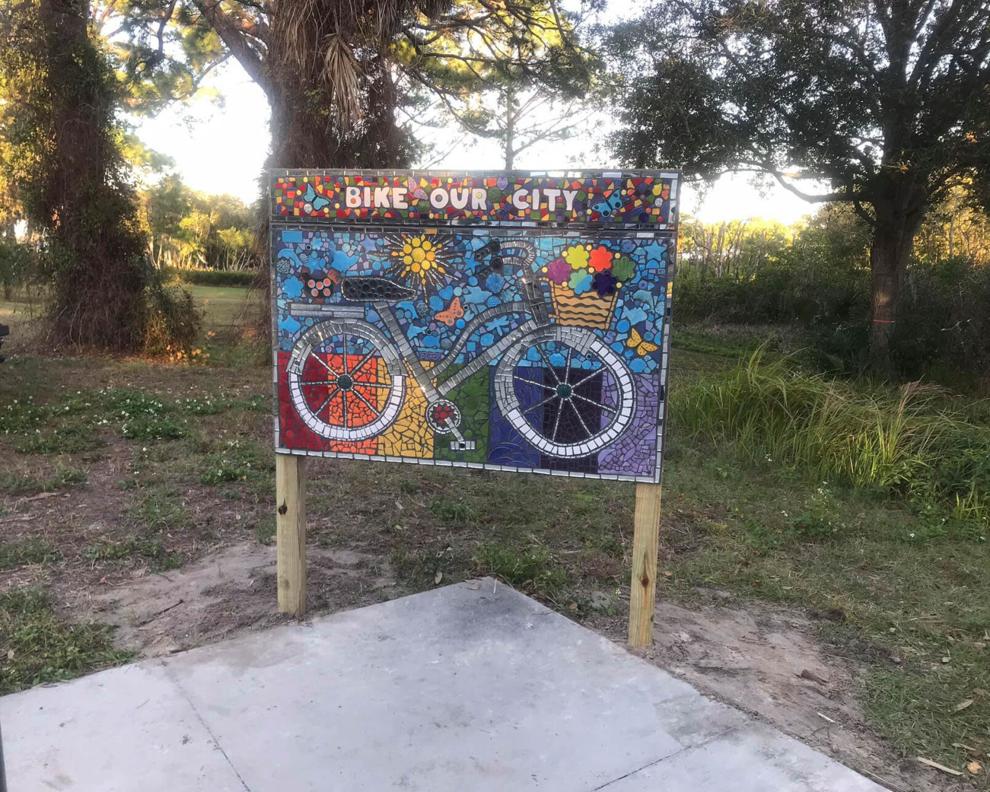 In addition, Elmore said the Bike Your Own City initiative features a public art component, as organizers will hand out free signs custom-made by Safety Harbor artist Heather Richardson.
"Heather is so wonderful. She's making custom lawn signs with our logo that people will be able to pick up at two local bike shops on the last Saturday in March," Elmore said. Pickup sites will be listed on the sign-up site. "When we did the pilot program in Safety Harbor in the fall, she helped create a beautiful mural that's on display in town, so public art is a big part of the Bike Your Own City program."
According to Becky Afonso, an Oldsmar resident and longtime cycling advocate who serves as executive director of the Florida Bicycle Association, Bike Your Own City is a terrific way to get out and get to know your community while having fun under the Florida sun.
"I like to consider March as the 'most wonderful time of the year,' and a Bike Your Own City event as part of Florida Bicycle Month just means more reasons to get on my bike for the adventure," Afonso said via email. She said she "will definitely participate" in the event and she looks forward "to discovering new places at my own speed."
She added, "As the Forward Pinellas Bicycle and Pedestrian Advisory Committee Vice Chair, and executive director of the Florida Bicycle Association, I'm thrilled this kind of stuff is happening in my own back yard!"
For more information on the Bike Your Own City Self-Guided Scavenger Hunt, visit Forward Pinellas.org.