TARPON SPRINGS – Renowned Tarpon Springs artist Christopher Still's work can be found at the Florida House of Representatives in Tallahassee and St. Petersburg City Hall, at the Sandpearl Resort in Clearwater Beach and the Smithsonian Institute in Washington, D.C.
Soon, one of Still's massive yet intricate portraits of Florida life will adorn the wall of a new lobby that's being constructed for the AdventHealth North Pinellas facility, at 1395 S. Pinellas Ave. in Tarpon Springs.
During a three-hour retrospective of Still's career titled "Anthology of an Artist" at the Tarpon Springs Performing Arts Center on Feb. 24, the artist let hospital president and CEO Jason Dunkel reveal the news of the collaboration.
"We're renovating our lobby, spending $35 million on upgrading the hospital, and we were looking for two art concepts for the lobby that would make people go, 'Wow!'" Dunkel told audience members who paid $25 to hear stories and anecdotes from Still's storied career. "And our people said, 'We have one idea: Chris Still.' And I was like, 'Duh.'"
Dunkel and his team met with Still, who typically takes years to complete his incredibly detailed works, and the result is a collaboration the CEO believes could make the hospital lobby a huge draw for art lovers everywhere.
"He talked about his vision, and everything started lining up like it was meant to be," Dunkel said, noting the piece would be a "nine-by-nine magnificent piece of art that's gonna make you say, 'Wow!'"
Still, who lives in Tarpon with his wife and collaborator, Kelly, and their two young daughters, grew up in Largo, honed his obvious talent at an early age in art programs in Clearwater, Dunedin and Palm Harbor before going on to study in Tallahassee, at the Pennsylvania Academy of Fine Arts, in Philadelphia, and, eventually, across Europe, where he honed his skills while sleeping on rooftops and learning at the feet of the masters.
"My mentor, Louis Sloane, once said, 'Someday I'll be gone, but the world I've seen will come out through your hands and I will live through your work,'" he recalled of his beloved PAFA professor. "That always stuck with me."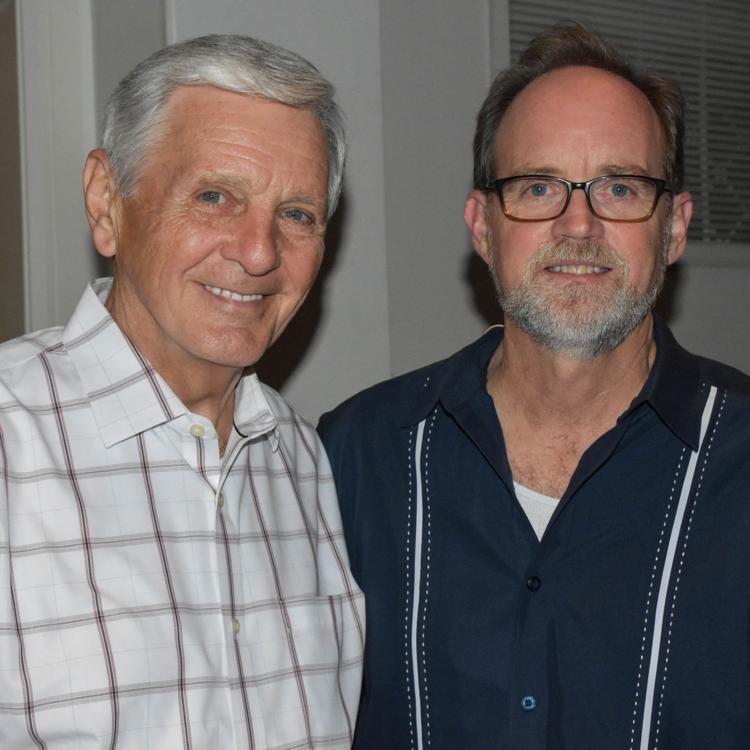 While Still's works vary in topic and tone, from vibrant underwater seascapes to darker portraits and still lifes, common themes abound, including incorporating well-researched, historically accurate elements and objects into each distinct depiction of Florida life; in fact, he continually directed audience members to spot the maps of Florida discreetly hidden in each of his pieces.
"I wanted to have people think that Florida was a worthy subject matter," Still explained of his subjects, which include portraits and plants, pinfish and his favorite food, Florida lobster. "Everything is connected. We're connected, everything in history is connected. There's a real meaning to these paintings that I don't always get to tell."
One story he did get to tell came in the form of a 30-minute video, narrated by former FOX 13 News anchor John Wilson, called "The Belleview Waltz," which showcased the amount of work and detail that went into a collection Still recently completed for the newly renovated Belleview Biltmore Inn.
"Chris is not like any artist I've ever met," Wilson said afterwards. "He's glib and articulate, detailed and concise. If we all took the time on our work like he does, think how much better we would be. We're lucky to have him in our community. He's a great inspiration."
After completing the Biltmore collection, which included traveling to Washington, D.C., and New England, among other places, for interviews and fact-finding missions, last year Still planned to take some time off with Kelly and the kids.
But like Michael Corleone in "Godfather III," just when he thought he was out, he was pulled back in by the prospect of painting a massive seascape of Tarpon Springs that one day will be displayed in Tarpon Springs.
"I only surface every few years," he said, only half-joking. "But this project was too good to pass up."
After the event, Dunkel spoke about the collaboration with Tarpon's most celebrated artist.
"This is a once in a lifetime project, and we're very fortunate and proud of the culmination of two visions — to have community art represented in the hospital, and for Chris to do a major work of art for the city of Tarpon Springs," he said. "Everything has worked together to bring this project to fruition. I'm so excited because this is something I've wanted for the hospital and the community for a long time."
As he made his way out of the auditorium, thanking his many friends, family members and mentors in attendance, Still said he's staging a nine-day open house at his studio at 324 E. Lemon St., from 11 a.m. until 6 p.m. March 23-31. It will be the last chance to see him in his element before he dives headfirst into the hospital project, the artist noted.
"We'll have a selection of original paintings and drawings, many from the Belleview Inn project, on display in the studio from 11 a.m. until 6 p.m. every day for nine straight days," he said. "So, I hope people come out for it because after that, you won't see me again for two years."