PORT RICHEY — It's easy, especially for children, to think that food comes from the local grocery store, which makes it easy to remain disconnected from the origins of what we eat.
Chef Vince Blancato has dedicated the last 10 years of his life to working with young children to help them understand where the vegetables and fruits we eat come from. His lessons culminate each year about this time with the garden harvest at Northwest Elementary School in Hudson, where he is a volunteer chef. The school garden, tended by the students, grows tomatoes, beans, carrots, radishes, cucumbers, lettuce and a variety of other vegetables. This year's harvest was bountiful, and for the first time the garden produced enough carrots to feed the entire school at lunchtime. Blancato roasted them for students and faculty to enjoy.
Blancato, stood in for the volunteer chef, Ray Benton, at Fox Hollow Elementary on May 23, where the children also were harvesting. They picked tomatoes, carrots, cucumbers and lettuce, which they were allowed to take home to prepare.
"It teaches the kids how to create life from seeds, and to harvest and eat the vegetables they grow," said Blancato. "It also encourages them to make healthy food choices."
Benton, like Blancato, is a member of the Tampa Bay Chapter of the American Culinary Federation, which sponsors the in-school gardening program in Pasco, Pinellas and Hillsborough counties through the ACF Foundation's Chef & Child Initiative.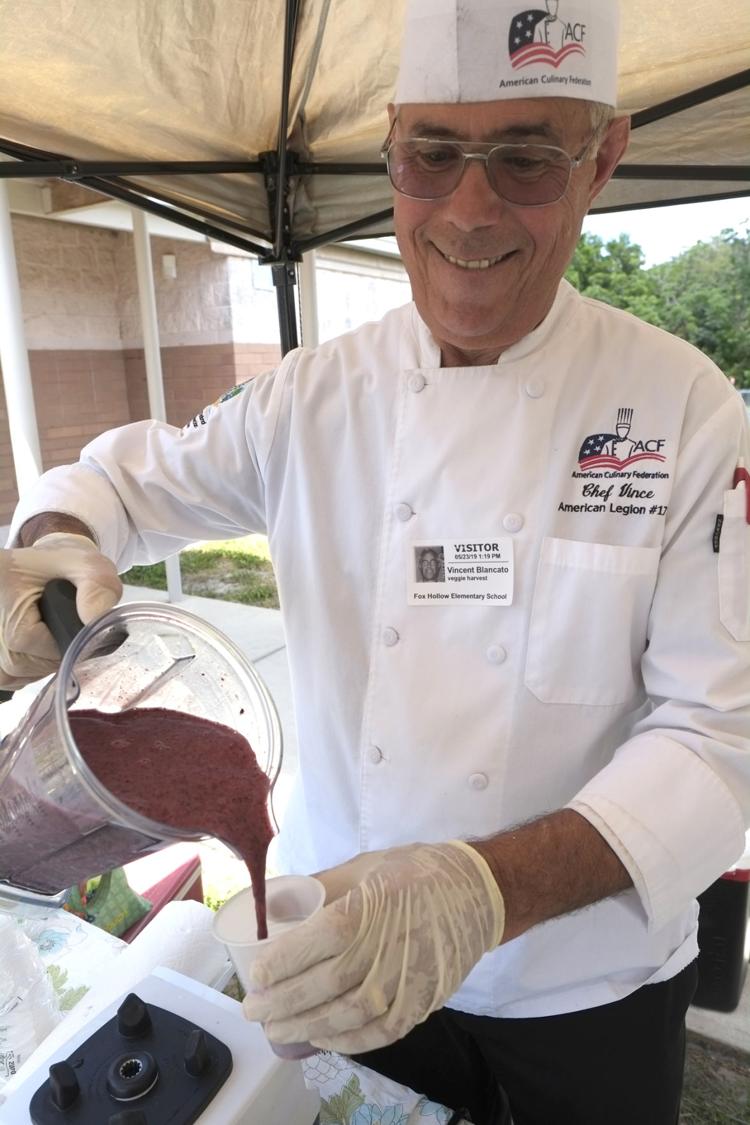 Blancato, and the other voluntary elementary school chefs in the county, answered the call a decade ago by then-first lady Michelle Obama's healthy eating initiative at public schools. Retired from professional cooking, Blancato saw it as an opportunity to put his skills back to work and to give something to the children and his community.
"So I volunteered," he said. "It was a good cause."
Blancato, who mixed fresh blueberry, yogurt and apple juice smoothies for the children at Fox Hollow as they harvested in the garden at the rear of the school, said the kids love the day they collect their vegetables.
"It's when they get to see the results of what they've grown," he said. "They take them home for dinner."
That's just what Isabella Bommarrito, 7, was planning to do. She grew beans and lettuce she harvested.
"We're going to cook them for dinner and make a salad," she said, proudly displaying her bag of pickings.
Each season, the children choose the seeds they want to plant, and are assisted by volunteer master gardeners who instruct them on the care and feeding of their plants. Master gardener Carolyn Kramer was on hand for the Fox Hollow harvest.
"It's fun," said Jaydyn Lopez-Perez, 8, who had just finished harvesting at Fox Hollow and was working on the deep-purple smoothie served up by Blancato. "I like it."
The school gardening program slows a bit in the summer, as there are a limited number of vegetables that grow well in the summer, said Blancato, who added the programs will take a leap forward soon when planting in 5-gallon buckets will be replaced by in-ground gardens, which will give students more room to grow, said Blancato.
"Some of the schools have already started their in-ground gardens," he said, adding the food-grade buckets that were being used are limiting, but also wear out and begin to crack in the sun. "We'll have even more production once we make the switch."