TARPON SPRINGS – The great American novelist Thomas Wolfe famously wrote "You Can't Go Home Again," but that adage was proven false last week when Tarpon Springs welcomed His Eminence Archbishop Nikitas of Thyateira and Great Britain back to his hometown with open arms.
A ceremony honoring the archbishop's return was held the morning of Sept 30, in the City Hall auditorium, the same facility where His Eminence, who was born Nikitas Lulias, attended what was then Tarpon Springs Junior High School. The Greek Orthodox cleric's appearance attracted a who's-who of political and religious luminaries, including U.S. Rep. Gus Bilirakis, Clearwater Mayor George Cretekos, Pinellas County Commissioner Dave Eggers and Tarpon Mayor Chris Alahouzos. Dimitrios Sparos, the consulate general from the Greek Consulate in Tampa, and His Grace Bishop Sebastian of Zela also were on hand.
While the event had the appearance of a formal ceremony, it had a relaxed and comfortable vibe once it began, as the archbishop, who was born in Tampa but raised in Tarpon Springs, revealed his personal connections to those in attendance with a subtle jab at Bilirakis for arriving a little late.
"I can tease Gus because I was his babysitter," Nikitas said, drawing a big laugh from the crowd, the congressman included.
The local connections didn't end there.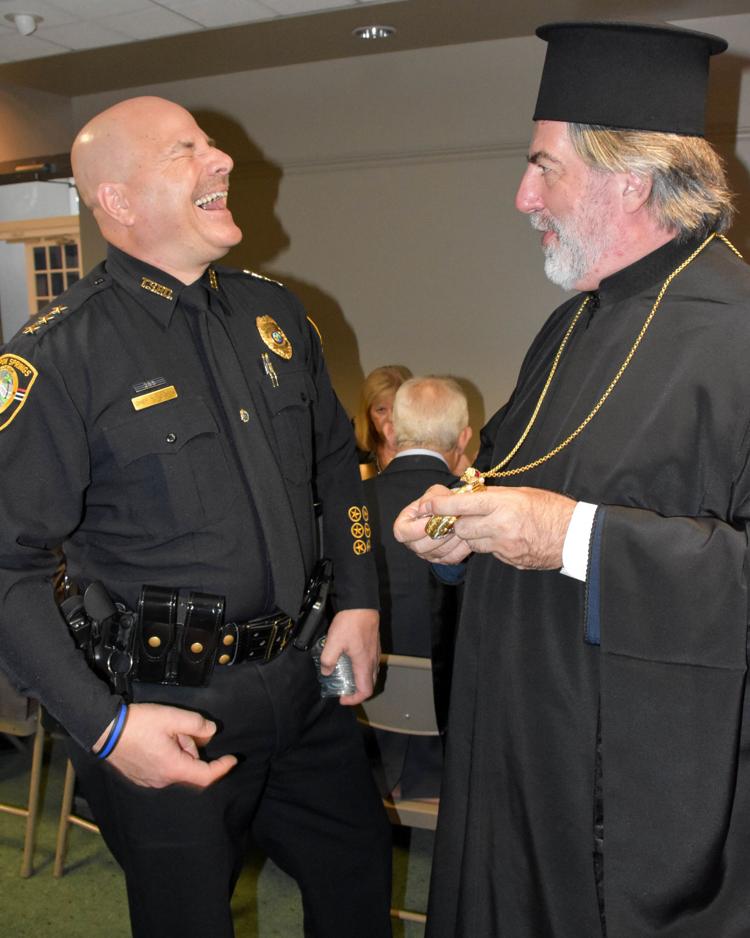 Mayor Alahouzos introduced his childhood friend and former Orange Street neighbor by stating he "always felt like someday he would become a priest" because Nikitas was always involved with the church, a feeling that grew stronger after he retrieved a special golden cross during the Epiphany celebration in 1974.
"We are especially happy that he has achieved a tremendous honor of becoming the Archbishop of Thyateira and Great Britain, and we are filled with pride because wherever he goes, he conveys his love for Tarpon Springs," Alahouzos said. "He's always a Tarponite no matter where he goes … and it's my honor to welcome you home."
After explaining it was not his fault he was late, Bilirakis noted Tarpon has produced "two archbishops, a congressman, several mayors and a rock star," the latter a reference to singer-songwriter Elbert "Bertie" Higgins.
Bilirakis, the son of former U.S. Rep. Michael Bilirakis, attributed this line of notable locals to the fact that "when you come to Tarpon Springs, you're going to find real people."
He added: "There's nothing septico about our people. Septico, meaning fake. We try to do the right thing, we don't always succeed, and maybe that's why God has blessed us … with very, very special people, like His Eminence Nikitas."
When he took the podium, a reflective Nikitas said it was an honor to be back in the building because he went to Tarpon Springs Elementary, Tarpon Springs Junior High and Tarpon Springs High School.
A product of public education, he was pushed by parents who wanted their two sons to not only have an education, but a better life, he said.
Nikitas' older brother, John Lulias, is the founder of the Greek dance troupe Levendia and a 2014 Florida Folk Heritage Award winner.
"And Tarpon Springs promoted those values and traditions, which we still embrace … because Tarpon is a city about tradition and embracing it," Nikitas said.
After noting the city has produced clergy and congressmen, attorneys and businessmen, Nikitas said, "I am a product of Tarpon, and you may say you've achieved many things. I only achieved those things because of my home, my family, the school system, this city and the community. Because all of those elements are what pushed my brother and me forward in life."
In closing, Nikitas stated Tarpon Springs "is a place of love, it's a place of harmony, it's a place where people know each other and I think appreciate one another in many ways, and that is because of the values and the meaning and the reality of what Tarpon is."
"It's an honor to be from Tarpon, because I think we're special, and I try to be an ambassador of this city wherever I go."
Between shaking hands, posing for photos and accepting gifts, and before sitting down for coffee and a bite to eat, His Eminence Nikitas spoke about returning to his hometown.
"Home is where the heart is and Tarpon Springs is where my heart is," he said. "I grew up here, my friends and family are here, my church is here. So, it feels very good to be back."