SPRING HILL — There's more to belly dancing than meets the eye.
Despite Hollywood portrayals of harem women encircled by men chomping on goat legs, belly dancers didn't shake their stuff because they were part of an entertaining dinner show, but rather to goad or gird them up for battle. It also was common for women to dance together with no men around, as part of spiritual rituals.
That belly dancing history lesson is courtesy of Jaynellen Arrington, a certified instructor who heads up DanceCraft studios, holding lessons in six locations throughout Hernando County.
Though the dance art dates back thousands of years to North Africa, many styles and forms of dress have evolved over the centuries, said Arrington, who teaches an improvisational group-style of tribal dancing that emerged from the renaissance pleasure fairs of San Francisco. Arrington ran a studio in San Francisco before moving to Hernando.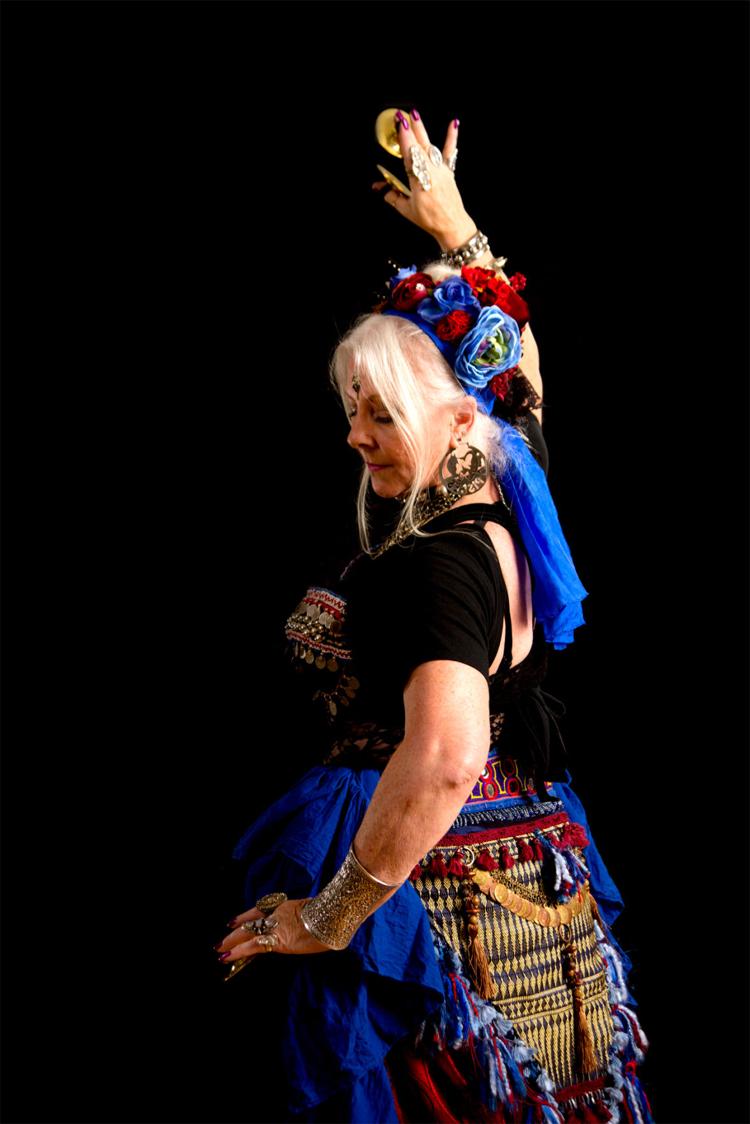 Upon arrival 10 years ago, she hoped to join a group or class in the area. When she discovered there wasn't anything like that, she got together with Paula Nelson to start a group. Today, there are some 30 members who travel and perform together if full costume with the group. Among the women are a jazz dance instructor, a former Weeki Wachee mermaid and even a retired Army lieutenant colonel who commanded a battalion.
They've performed all over the region, and are well known among those who attend the annual Brooksville Blueberry Festival and other public events.
Many of the group members became hooked after taking a free class, which Arrington offers to anyone interested in trying it out.
"It's a group environment," Arrington said, stressing that while over the years there have been some "prima donnas" who wanted to be the center of attention, that is not what the Dance Craft group is about.
Group members follow a leader, and the lead role is rotated among the members, so that everyone gets a chance. The job of the leader is to send cues to the dancers to indicate what moves to perform. The cues can be hand motions or an audible "yip," the coded messages appearing to be nothing more than part of the performance to spectators.
For many of the women in the group, the classes have become part of their exercise regimens and a social activity. It also can be meditative.
Claudia Smith has been with the group for seven years, joining after looking for some exercise after quitting her gym. She now dances two to three times a week.
Claudia Campbell was hooked from the first class, and also has been with the group for seven years.
"The ladies are amazing and they're from all different backgrounds," said Smith.
Sharon Elliot used to dance underwater at Weeki Wachee Springs as a mermaid some 60 years ago.
"I love to dance," she said. "I saw them (the dance group) at the Blueberry Festival and said, 'wow, I'm going to check this out,' so here I am today."
Dancers Lisa McGuire and Pat Hoffman are the newest members, both agreeing that the "welcoming" nature of the other dancers is what made them stick with it.
Nelson has been with Arrington from the beginning and had been traveling from Hernando to St. Petersburg for the nearest belly dancing classes. Having something close to home has made things easier. She said she feels connected to the ancient and traditional art, an enjoys a sort of metaphysical bond the first belly dancers.
"I dates back to before B.C.," she said. "It's very old and has a very long tradition."
Arrington and Nelson lead classes weekly at several locations in Brooksville and Spring Hill. For information on classes, visit www.dancecraft.dance. DanceCraft also offers classes in the Asian meditational flow arts such as Tai Chi and Qigong.