PORT RICHEY — Anyone with their eye on commercial development in west Pasco County who spots a new commercial building under construction will bet it's going to be a car wash, a self-storage facility or a Dunkin donut shop.
Well, that is unless the new building is going up next door to a Dunkin.
For those who have been wondering what's being built on the west side of U.S. 19 behind the Dunkin coffee and donut shop just south of State Road 52, it is indeed a new self-storage facility, but not an ordinary one. It will be one of the largest in the area — three stories and with 828 Class A storage units.
Riverside, Missouri-based Beyond Self Storage contracted Bay to Bay Properties of Safety Harbor, a construction management firm specializing in commercial building, to handle the job, which is expected to be completed in early 2020, according to Nicholle McKenzie, marketing manager for Beyond Self Storage.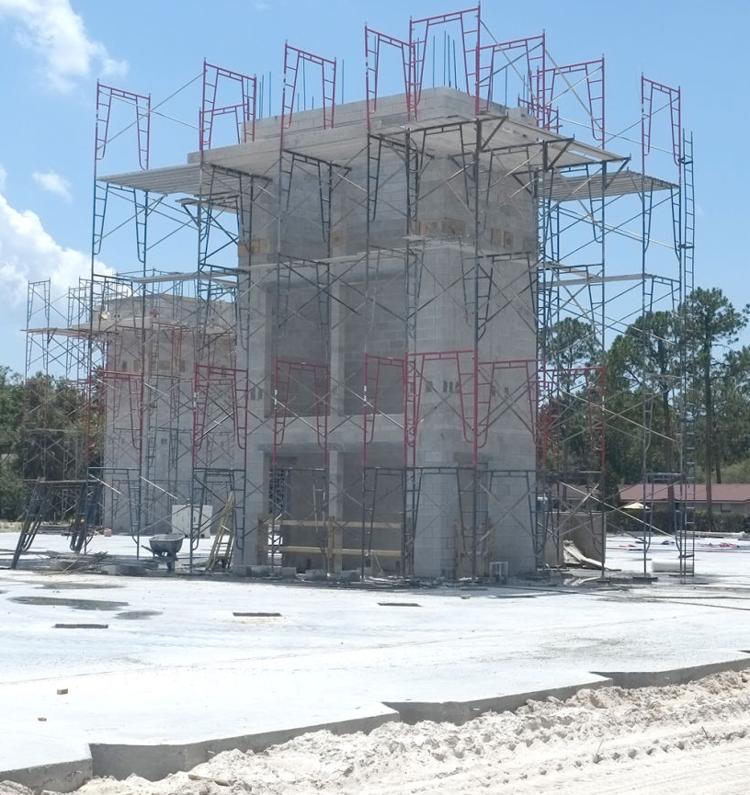 The project is on track, according to Mckenzie Hellmann, project accountant with Bay to Bay Properties, with completion projected for mid-February.
"Beyond Self Storage is excited to be entering the Pasco County market in Port Richey; our location on US Highway 19 will provide convenient access in the area, and our interior loading/unloading drive-thru will be a great feature for our customers to avoid dealing with the heat and rain elements," said J.J. Jenkins, project manager for Beyond Self Storage's parent company, Northpoint Development, also of Riverside, Missouri. "We also provide secured exterior storage for boats and RVs, for area residents and for those who visit the gateway to the Gulf."
All of the storage facilities units will be climate controlled, said McKenzie. She said the Port Richey business will be the company's 15th in the nation. The 16th is under construction now in Temple Terrace. The company's goal is to open self-storage centers all over the country under the Beyond brand name.
Like other facilities around the nation, the Port Richey facility will feature a central elevator. Stairwells will be at both ends of the building. As of this week, the concrete foundation for the building has been build, along with the concrete block elevator and stair towers.
Hellmann said Bay to Bay is constructing another self-storage facility in the Trinity area, and for those who may be curious about a new commercial structure going up in the Wesley Chapel area, it will indeed be by a Dunkin there, too.
Bay to Bay, which gave up residential building five years ago to concentrate on commercial buildings, has several other projects in the area coming soon, said Hellmann, including a new 7-Eleven convenience store in Holiday and a Jiffy Lube in Odessa.