TARPON SPRINGS — The idea of shopping small was a big hit in downtown Tarpon Springs last weekend, as large crowds jammed the streets and stores of the historic district on Saturday, Nov. 24 and Sunday, Nov. 25.
Several events were taking place simultaneously, including the annual Thanksgiving Art and Craft Show, Small Business Saturday and the final Wine Walk of 2018, and the historic district was jam-packed for much of the weekend, according to city officials, vendors and event organizers.
"I was Downtown Saturday evening and the streets and stores were crowded with people," Tarpon Springs Economic Development Director Karen Lemmons said via email. "It was a great to see locals and visitors supporting our businesses and restaurants. The businesses pulled out all the stops with special promo-tions, and the Wine Walk really brought in more people and much greater exposure for our businesses. I've had all positive feedback from the businesses I spoke with, so we are off to a great start to the holiday shopping season."
Indeed, a record crowd for Wine Walk — nearly 600 tickets were reportedly sold — certainly boosted the overall attendance in town Saturday evening, but the rest of the weekend was all about holiday shop-ping.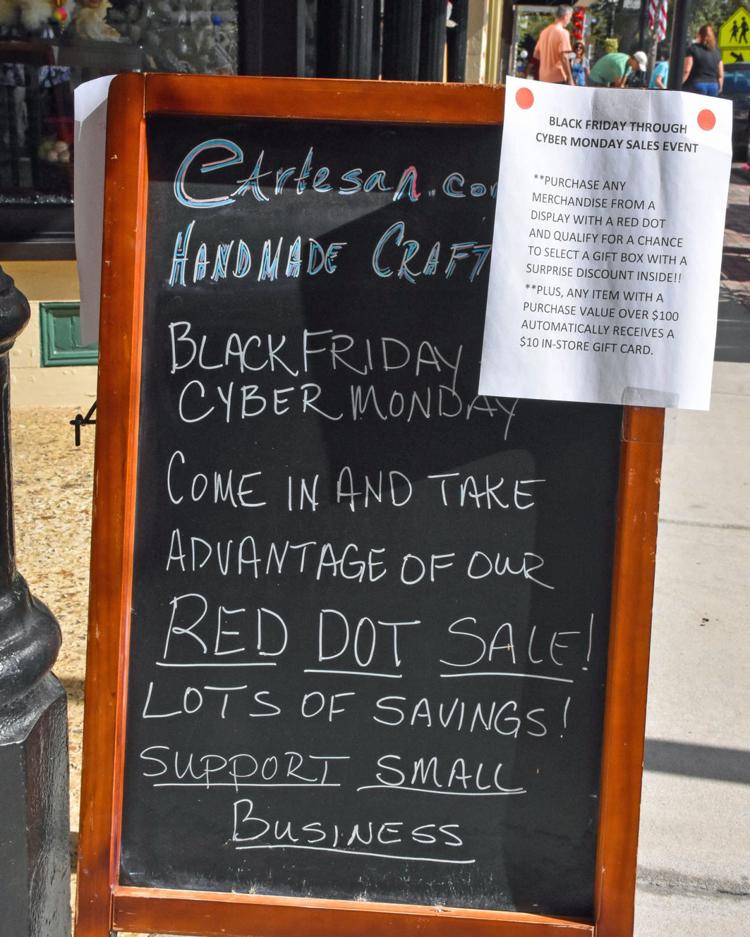 Court Street, which served as home base for the Chamber of Commerce's Thanksgiving Art and Craft Show after several years on Tarpon Avenue, featured a steady stream of browsers and shoppers all week-end, according to the chamber's president and CEO, Jean Hungiville.
"It was the best Small Business Saturday we had in a long time. Phenomenal," she said. "By moving the show to Court Street and keeping Tarpon Ave open, everyone wasn't crammed together. We were very pleased with the flow of traffic downtown and to the Sponge Docks. A merchant from the Sponge Ex-change told me they had one of their best weekends ever by having Tarpon Ave open. So that was really encouraging to hear."
A walk along Court Street late Sunday morning featured a small but growing crowd typical of the day, according to Hungiville.
"Sunday is always going to be slower because of church and family activities," she said. "But people showed up later and we had a very busy day."
One vendor said the weekend traffic was steady if not spectacular, but still worth the trip from southern Hillsborough County.
"Business has been steady — but it can always be busier," Marina Naples, owner of Marina's Luscious Body Products based in Sun City, said on Sunday morning. "Yesterday there were a lot of browsers, espe-cially in the second half of the day. But if today picks up I'll come out okay. It's my first time at this show, and I think they did a great job. I love having it in a downtown setting. I think it draws more peo-ple."
Helen Tomczuk, one of Naples' customers, agreed.
"I love shopping local when I'm in town," Tomczuk, a Chicago resident, said. "My boyfriend is over at Two Frogs (Brewery) right now while I'm shopping. So, we compromise."
Some vendors were pleased with the show's return to Court Street, others not so much.
"I liked it better when it was downtown," Palm Harbor artist Mary Angela Smith said. "It feels segregated over here, too separate from the other businesses. There's not as much foot traffic. I don't think it was a good idea to move it from Tarpon Avenue. I hope it moves back next year."
When asked about the possibility, Hungiville said a move did not appear to be in the cards.
"Leaving the main drag open turned out to be fortuitous for the businesses on Tarpon Avenue as well as the Sponge Docks, and we're going to continue to do this as long as it works this well," she said. "We're always looking for better opportunities to showcase our businesses."