SPRING HILL — Looking at the satellite image of northern Spring Hill, a massive undeveloped patch of green just south of Northcliffe Boulevard and bounded on the east by Mariner and the west by Deltona boulevards sits in stark contrast to thousands of surrounding homes.
That situation, however, is poised for a major transformation.
The 450-acre tract is the future home of Spring Center, a development of up to 3,000 new homes, plus retail and office space, parks and trails. It will be the largest new development within Spring Hill in years. Hernando County is intent on ensuring it's done right, overseeing the master-planned development down to the smallest detail.
"The master plan process used with the Spring Center provides for a much more integrated and comprehensive approach to planning and development, rather than the ad hoc piecemeal approach where infrastructure and service needs are not planned in advance," according to a statement from the Hernando County Planning Department.
The county has already amended its comprehensive development plan and made zoning changes needed to move the project forward. The next stage will be approval of a subdivision application addressing all required development processes. These include traffic studies, compliance with regulatory requirement, and other agreements between the county and developer, as needed, according to the county planning department.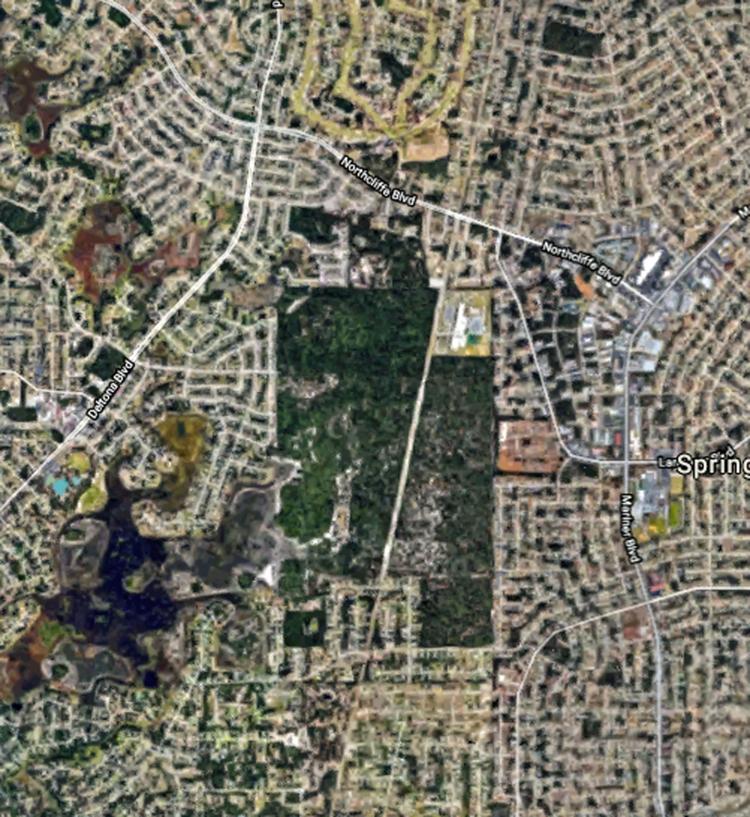 It's a three-pronged stage, said Don Lacey, planning director with Coastal Engineering Associates. The Brooksville-based firm is representing the Spring Center Development District.
The developers must come to an agreement with Hernando County engineers on issues such as roadwork and traffic; county utilities on water and sewer and make deals with the county school system to handle increased numbers of students.
The studies and analysis needed to strike the agreements will take a few months, but the developers already have a deal with the Hernando County School District to build a "cueing loop" at the Explorer K-8 school, which sits at the northern edge of the planned Spring Center, said Lacey.
Lacey concedes there will always be concerns among residents when such a large development is proposed, but he points out that while the original Spring Hill development was called a master-planned community, a lot has improved about the master-planning process in the 50 years since Spring Hill's inception.
Spring Hill was never planned to have a "town center," where shopping, professional and services are in one centralized zone. A town center was always a dream of Deltona and the Mackle Brothers, the original Spring Hill developers, but it never happened, but now it can, said Lacey. And Spring Center will not have homes sitting on major connector roads, as is the case in Spring Hill.
"Nobody puts driveways on those (main connector streets) anymore," said Lacey, who added there will be no traffic snarls or accidents in Spring Center due to residents trying to back out of driveways onto major roadways.
Other features of Spring Center include miles of hiking paths and connecting sidewalks, generous green spaces and parks, said Lacey. The town center may include townhouses, and even upstairs apartments above retail or office space.
Opinions among some residents near the proposed development are mixed.
"It sucks," said Tony Domagala, whose home sits just outside the southwest corner of the Spring Center property. "There's going to be too many people here; I'll probably be moving because of it."
A couple of his neighbors are not as worried.
"The bottom line is I don't have a problem with it," said George Hayles. "My only concern would be that they do it right and make sure they build the roads in and out of it to handle the increased traffic."
Another resident recently bought a lot just outside the Spring Center grounds, knowing Spring Center was coming. He plans to build a new home.
"The idea is not affecting me personally," said Ryan Gofskie, who has a substantial wooded buffer separating his property from the proposed development. His only concerns are traffic, which he suspects will increase in his neighborhood over time.
For those wondering how a 450-acre tract of vacant land remains in mostly built-out Spring Hill, Lacey said the land owner, Loren Hamm, bought the property many years before Deltona Corporation and the Mackle Brothers began building Spring Hill around 1970, refusing to sell. Hamm passed away a few years ago and a deal was made on the land, he said.
Lacey said no one in the area has to worry about any impacts for a while, as there's a long road ahead of Spring Center. The detailed studies, engineering, planning, permitting and other needs, even if all goes according to the developer's plan, could mean construction doesn't start for another two to three years, he said.