SPRING HILL — Kyle Wietecha spends most balmy summer days beautifying landscapes with unique decorative curbing. It's an unusual artsy accent to his clients' homes that Wietecha turned into a business, All Around Inside/Out LLC, more than 13 years ago. And the art is still in high demand.
All Around Inside/Out LLC is a landscape curbing company that is dedicated to solid craftsmanship and customer service. Wietecha extrudes landscape curbing to border yards, driveways, plants and flower gardens.
When most think of adding curb appeal to the exteriors of their homes, they might not think actual curbing is a viable option. Yet the permanent custom fixture around plant beds, tree islands, driveways, etc. doesn't only add visual beauty, it can also rectify problems with drainage and protect landscaping.
But the main purpose, of course, is to add unique eye-pleasing aesthetics that will last indefinitely. And through the years Wietecha has perfected the craft with beautiful styles and hues to accent any landscape.
It started as a hobby, he said, because he wanted to work more outdoors. Curbing seemed like the perfect fit, something he could do on weekends as a supplement to his regular job. Wietecha was introduced to the craft from a relative up north who ultimately decided against it because of the subfreezing temperatures that could damage the concrete borders. "When I came down here, I looked into it and it seemed like the perfect fit."
He began small, building up clients gradually as his work got noticed and referrals became the backbone of his business. And he added styles and colors, some he crafted, from basic concrete to the popular Belgian Block that debuted this year.
Curbing uses a continuous stream of concrete, extruded by special equipment. The result is a flawless border that cannot be duplicated with individual blocks.
Wietecha is a determined entrepreneur with a head for small business and a heart for his clients. His background is in woodworking, landscaping and stone restoration, skills that have helped him build his curbing business. He is careful how many clients he takes on, ensuring each is given the right amount of time to complete each job with the quality it deserves.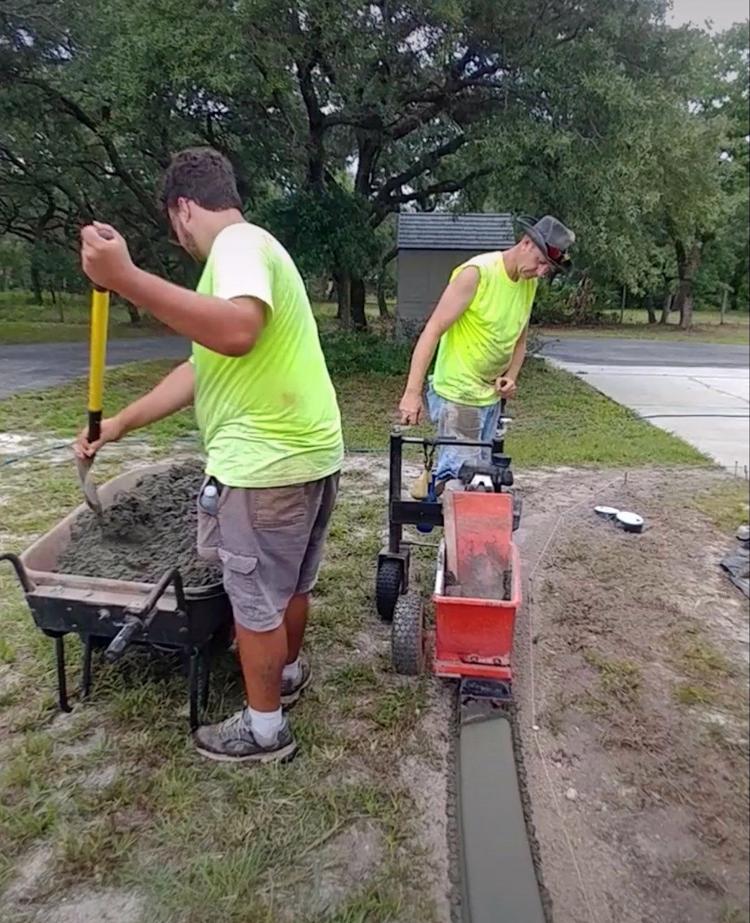 Many of his customers begin with curbing as a functional necessity and broaden their aesthetic scope when they discover how the curbing accents any landscape. They typically begin with one part of their property, like an island or border curbing and expand over time.
Kevin and Shannon Lawley of Timber Pines moved into their new home in August and have been busy turning the property into the perfect Florida escape. Shannon has a knack for interior design, which is immediately evident inside their home. But the creative flow is captured outside as well, with colorful flower beds and tropical palms.
The Lawleys contacted All Around Inside/Out when existing curbing had become unsightly due to neglect. "They came out and replaced all the curbing," said Shannon.
Keeping with the aura maintained by residents of the exclusive golfing community, the Lawley property is immaculate. It is also unique with Belgian Block curbing, a new style created by All Around Inside/Out.
"We always want to be different," said Kevin.
Wietecha blends the color directly into the cement mix and builds the curbing at each job. The process is involved, requiring site prep and time for the cement mix to dry. But the result is amazing.
Wietecha is on every job, a big reason Kevin Lawley hired the company. He asked who would be doing the work and was impressed to learn the owner gets his own hands dirty on every job.
All Around Inside/Out LLC also does decorative stone overlay, decorative concrete rain gutter splashes, stone and mulching, and pressure washing of old curbing that might require a face lift.
"We specialize in landscape curbing," Wietecha said. "We also branch off to do stone and mulching so we can do the completed project."
For more information and pricing estimates, contact All Around Inside/Out LLC at 352-686-4170. Visit its website, www.allaroundinsideout.com.