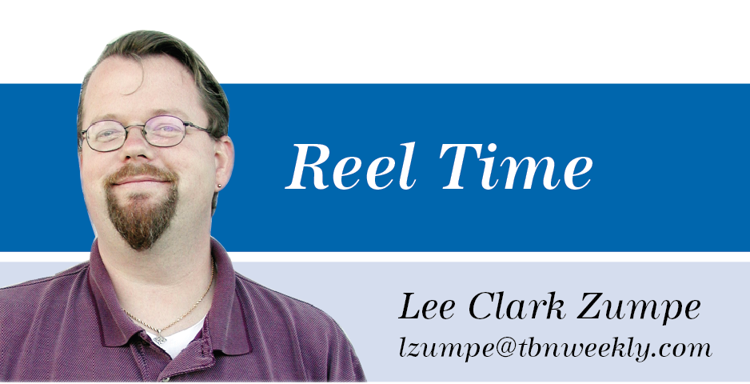 Hallucinogenic rabbit poop has never been used so effectively as a plot device – to my knowledge – as it is in a new horror/comedy/coming-of-age madcap survival adventure. Clearly, there is a lot going on in writer-director Ninian Doff's debut feature film "Get Duked!" – and somehow all its weird, incongruent components manage to coalesce by the end of this low budget, crude endeavor.
"Get Duked!" was released by Amazon Studios on Prime Video Aug. 28. There was no pomp and circumstance surrounding its release. There was little media hype announcing its arrival. Its primary cast of teenagers is virtually unrecognizable to American viewers, though among the supporting actors is stand-up comedian, actor, writer, and political activist Eddie Izzard.
The story revolves around four teenagers. Dean, Duncan and DJ Beatroot are irresponsible delinquents whose antisocial behavior got them sentenced to take part in a character-building camping trip. The fourth member of this fellowship is Ian, a strait-laced, by-the-book kid who volunteered for the program – known as Duke of Edinburgh's Award – because he thought it would look good on college applications. The participants are expected to learn foraging, teamwork and orienteering over their two-day outing as they hike across the Scottish Highlands.
Right from the beginning, it is evident that the expedition will not go as planned. In addition to the fact that the hikers are woefully unprepared for the challenge, unlikely to follow instructions and lacking common sense, an ominous backstory begins to emerge. The first hint is a cluster of missing person handbills stapled to the bulletin board of an outdoor message center at the trailhead.
It isn't long before the reason behind all the disappearances in the area is revealed: A mask-wearing, titled patrician is hunting the youth in an effort to thin the herd.
Boasting a hip-hop infused soundtrack, several trippy psychedelic sequences and the antics of bumbling local police officers, "Get Duked!" is simultaneously senseless and wickedly clever. There are visual shoutouts to Danny Boyle, Neil Marshall and Terry Gilliam along with thematic parallels to horror classics such as "The Wicker Man" and "Society."
Beneath its multi-layered latticework of clashing genres, at the film's core is a riotous satire of class struggle and generational politics.
Doff – who is best known for making award-winning music videos and short films for artists including Run the Jewels, The Chemical Brothers, Miike Snow, Migos, and Mykki Blanco – had both a specific message and method in mind when he went about constructing his political allegory. In the film's production notes, he explained that traditionally, in the United Kingdom, films are either "gritty and miserable and set on council estates, or just funny and jokey – and not allowed to be anything other than that." Following that tradition and making "preachy" movies limits the filmmaker's ability to reach the next generation.
"Before I even wrote the script, I knew I wanted to make a movie you could watch on a Friday night with your friends, something as quotable as any good comedy, but also feels like a political awakening," Doff said. "And it had to have an element of rebellion to it — a rallying cry for teenagers, because their voice matters, and the people above them don't always know what the hell they're talking about. The movie is a bit of a Trojan horse in that we creep in with all these teenage jokes, and once the audience is hooked, we show them here's how you can break the system."
The film's irreverent and sometimes puerile humor is boosted by increasingly ludicrous subplots, including stoned farmers, a bread thief, a driverless minivan rolling down an endless slope and a "well sharp" fork employed as a weapon.
"Get Duked!" sets a group of outcast young people against the entrenched aristocracy, a group of highborn lowlifes whose members have gotten away with murder for years. It shows what can be accomplished using creativity, teamwork and initiative – and a bit of dumb luck. Doff hasn't given birth to a cinematic masterpiece and his film isn't likely to connect with most mainstream audiences. Still, it possesses enough attitude and chaotic vitality to attract enough attention right now to ensure its place among cult classics of the future. Subversive, absurd and delightfully unconventional, "Get Duked!" earns its Duke of Edinburgh's Award for guiding viewers through a crazy amalgam of humor, horror and social commentary.